All Tomorrow's Parties - Iggy And The Stooges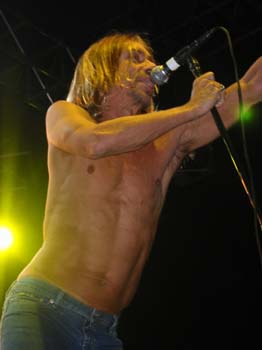 Ben Tausig: Raw Power was off-limits, and Iggy of course casts a less tremendous shadow these days, but the Stooges squeezed every drop out of the fifteen song repertoire at their disposal, playing nearly every track from The Stooges and Fun House (including "I Wanna Be Your Dog" twice). Both Ron and Scott Asheton remain in the band (Ron, still exciting, on guitar, and Scott, who sounds somewhat less engaged, on drums), and Mike Watt filled in more than capably on bass.
Crowd favorites like "1969," "T.V. Eye," and "No Fun" were consistently good, even ecstatic when Iggy's delivery was on. Still performing enthusiastically, the Stooges make a strong case for the abiding relevance not only of their music (that much is agreed upon), but for their own continuing careers, even if exclusively as a touring act. The same doesn't extend, unfortunately, to Iggy's newer songwriting. The band played a few tracks from his current solo album, Skull Ring, all of which were significantly below the Stooges' collective ability level, representing rare low points in an otherwise triumphant set.
The show also involved an unintentionally comic routine, with Iggy and his chief roadie as the chief actors. Iggy has several habits, such as throwing his microphone or microphone stand on the ground and stage-diving, which speak distinctly to the expectations of a punk-rock crowd and yet frustrate the strict codes of music festival security battalions. Each time Iggy dove headfirst into the sea of people, his roadie (a frowning British man in an orange hibiscus shirt) would dive fearlessly after him, eventually pulling the shirtless body back onto the stage. Four or five times this happened. Moreover, as Iggy threw mic after mic to the ground, the selfsame roadie would scurry out, head down as though he could possibly make himself any less conspicuous, and replace the theoretically damaged instrument.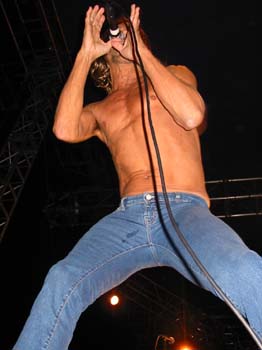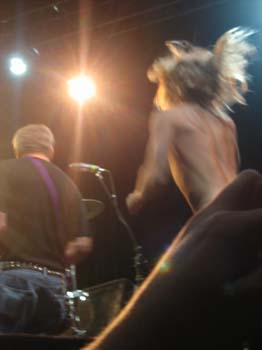 < The Mars Volta | ATP index >

By Dusted Magazine