Dusted Features

Dusted's Owen Strock checks out a recent performance by hip hop supergroup Madvillain.



America's Most Blunted: Madvillain Live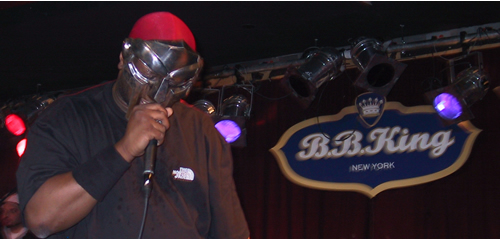 Welcome to the "New" Times Square. A perpetual swath of artificial daylight, terrible traffic, and oblivious tourists. A grimy center of Manhattan that has traded good old fashioned prostitution for whoring of the corporate kind. Recently sandblasted to a Disney World glow, it tries to hide its inherent filth in blooming neon. But dirt endures, sometimes in the least likely places.
On Monday, April 5, 2004, it came from the revolutions of dusty vinyl and blunt ashes at the base of B.B. King's elegant stairwell. At 42nd street between 7th and 8th Avenue, beyond the gawdy Lion King and Quiksilver marquees, bumped a basement of 45 funk and soulful hip hop. Stones Throw had come to town, and MF Doom had come out of hiding.
The crowd in B.B. King's was an interesting mix of hip hop heads, Japanese spendthrifts, Soulseek sorcerers, cute hipster chicks, dreaded beatmakers, preppy malaprops and the occasional music journalist. The bar was long, the floor carpeted, the bass warm and inviting. Stones Throw label manager Egon was on stage when I arrived, loosening the crowd's limbs with his deeply dug crates of funk, bhangra, and something resembling psych rock. I sure as hell didn't know the artists but I knew the bass went well with my beer. To either side of Egon were large video screens projecting muted hip hop videos from the early 90s. Pete Rock and C.L. Smooth, Da Boss, Fu-Schnickens, Leaders of the New School. The venue was soaked in good feelings and a sense of musical history. Not to mention dope-ass breaks.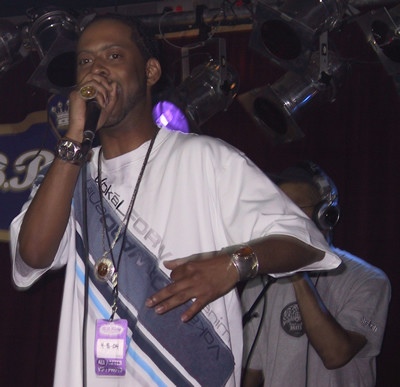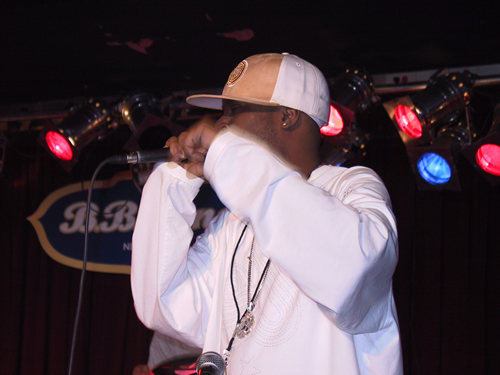 The area in front of the stage was already packed with the assembled multitudes, snapping their necks like a sea of bobble-head dolls. Some tried to muscle their way to the front while some held cameras cocked and loaded, ready to catch some candids of the West Coast beat conductor Madlib, and his new cohort; the elusive MF Doom. Madlib appearances are not an everyday occurrence in NYC, preferring beat-sequencing in his basement in Cali (dubbed "the bomb shelter") to the shine of stage lights. But MF Doom is a different story. A New York MC who has been putting out albums since KMD's Mr. Hood in '91, he's a rarity in his own hometown, almost never making it to shows and absolutely never showing his face. Doom prefers to perform incognito, hiding his grill behind a metal mask and doo rag.
The show kicked off with three DJ sets, the first of which was Egon's eclectic mix of genres. Peanut Butter Wolf, the founder of Stones Throw and accomplished DJ/producer, followed second with a set of all 45s, including a large clip of old school hip hop from the likes of KRS, Gang Starr and Audio Two. The kind of stuff everyone could sing to. J.Rocc came out third, performing the most acrobatic of the sets (as is to be expected from a founder of turntablism) juggling funk records and hyping the crowd. Though three sets was a little overkill, the result was an audience desperately hungry for the main course. We wanted to see some MCs.
With a modicum of hype, and a call to push up our lighters, Madlib sauntered out with his Oxnard, California accent and terse microphone control, repping the Jaylib album (a collaboration between Detroit producer Jay Dee and Madlib) from a few months back, then launching into a few solo tracks from the album, letting the heavy beats carry his stuttered rhymes. Certain songs came off strangely, such as the ridiculously infectious "The Red," because Madlib's high-pitched alter ego, Quasimoto, was not present to work the microphone with him (Madlib claimed 'Lord Quas' was getting drunk at the bar). But for every punch-in Madlib couldn't supply, the crowd eagerly did, and no one really cared when the beats were so lovely.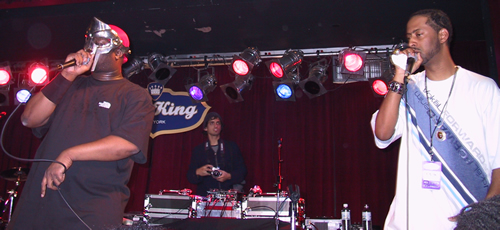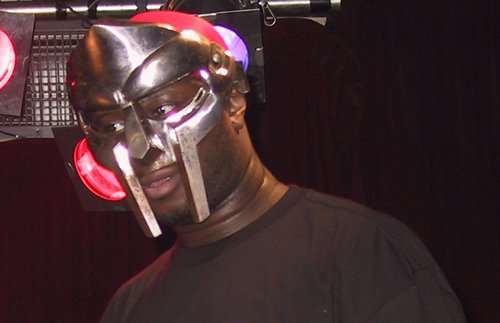 Madlib considers himself a producer before he considers himself an MC, and the beat conductor tends to shine through in his performances. He spent stage time talking about his love for jazz, did a song about crate digging, and lost motherfuckers on a Sun Ra tangent, asking people to holler if they'd heard of this artist or that. Just as the crowd began to grumble at him spending more time talking on the mic than rocking it, Jay Dee bounded onto stage and returned the focus to their show. The duo did some Jaylib joints together, then threw in a whole chunk of old school Jay Dee material, playfully testing the crowd's hip hop scholars.
But the audience was live and well-versed, even for New York, spitting back lines and filling in choruses that had the MCs grinning ear to ear. If there was any theme to the night, it was the humble vibe from the performers. Everyone from the Stones Throw camp looked happy to be in New York for such an eager crowd. They were having as much fun as the kids in the front row, throwing up their hands for their heroes.
After a brief appearance from Percee-P, the old school MC who is forever slinging his CD-Rs on New York streets, Madlib wrapped up his set and moved out of the spotlight while J.Rocc kept the turntables turning. A hungry hush fell over the crowd, and shouts for Doom echoed across the dimmed auditorium. The crowd had been waiting for this all night, if not longer.
From stage right a character in a metal mask bounded into the spotlight, and there was a moment of raucous cheering until everyone realized he was an impostor: a scrawny white kid dawning Doom's helmet, armed with free CDs for the crowd. The audience booed as he shrugged his shoulders and tossed the music. Then a bouncer three times his size rushed up and wrestled him back into the wings, literally lifting him off his scrambling feet. The cries for the real Doom only redoubled amid some laughter, and while everyone's guard was down, Doom to stepped to the plate, the mask returned to its rightful owner. The crowd roared its approval as he launched straight into his Madvillain material, discovering the crowd was already quite familiar with the new tracks. Maybe bootlegging isn't always such a terrible thing.
Doom's set was flawless, killing single after single with barely a breath in between as he bounced across the breadth of his repetoire, never losing the audience that followed him word for word. Madlib mostly remained in the shadows while Dumile spit for the kids, only coming forward to perform the crowd favorite "America's Most Blunted" and jumping behind a drum set for the jazz breakdown on "Money Folder." The breakdown was actually more of a solo, as Madlib flexed his Yesterday's New Quintet skills (a live jazz band made up of five members, all of which are Madlib) and freestyled all over the set. It was a nice breather for Doom, who just bobbed his head and remarked, "Cat is ill."
After Madlib's solo, Doom drove the show home and joined it for a nightcap, performing a large chunk of Madvillainy, a good portion from Vaudeville Villain, and a hot slice of Operation: Doomsday. Though my favorite moment was the entire performance of "Dead Bent," it was hard to beat an entire crowd yelling "Don't talk about my moms, yo!," during the song "ALL CAPS," from Madvillainy. Doom wrecks a show, projecting his "flow of hot molasses" from a beer gut stance, carrying his weight like a benevolent king of rhyme-slinging. Daniel Dumile may have been spitting since '91, if not before, but age has only improved the metal face of his microphone terrorism.
Exhausted in a good way, Doom said "peace" and fled back to the shadows, letting the crowds cries for encore hang plaintive in the air. Perhaps the supervillain had a clandestine rendezvous to make. Or maybe he just took a cab home. Only Dumile knows. But the show was not quite over, and Madlib stepped out to rock the drums some more with J.Rocc for accompaniment. This idea sounded better than it came off, devolving into a sloppy, well-meaning but ugly ending for an otherwise tight show. Improvisation is fun when you've got some chops (and an ability to listen to the other player), but Madlib was too busy banging things to let J.Rocc work. He was off in his own world, which seemed strangely natural for this Stones Throw backbone.
It was messy fade for a great show, but to ask Madlib to clean up his act is like asking Times Square to stay pretty. The world just don't turn that way. They can sandpaper the sidewalks all they want, but the truth is quite simple. If it ain't rough, it ain't right.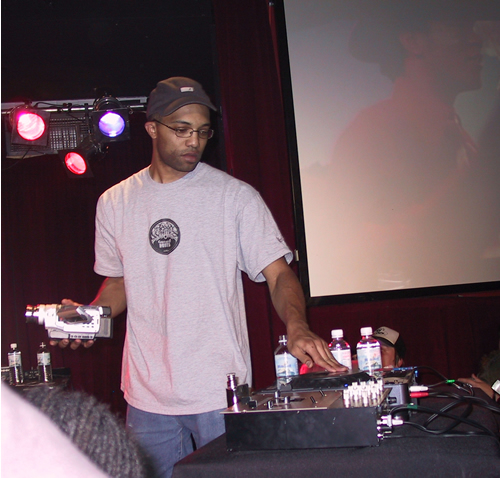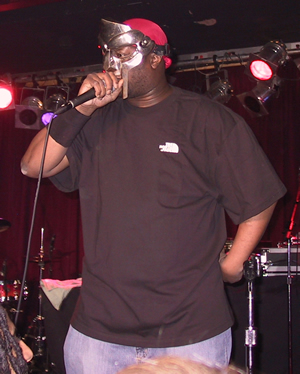 By Owen Strock