Dusted Features

Ben Donnelly enjoys a good guitar - as long as it's plugged in...and turned up to at least 7.



2004: Punk Snot Is Dead, Disco Popes Crap Out, Yay by Ben Donnelly
So Johnny Ramone is dead, planting the Beatles of the '70s into the history books before the Beatles of the '60s have stopped releasing weak solo albums. The buzzsaw bubblegum the Ramones created is used to open teen TV shows and sell tortilla chips. Of all the New Wave, the Ramones craved a hit single more than anyone. Bring it back to the catchy, unadorned Rock 'n' Roll song. But, by 1980, they might have settled for a TV theme or jingle work. That they soldiered on made them bitter, but probably preserved their reputation in a way that hasn't happened to, say, Blondie.
Still, I think they'd have preferred a hit single.
Their winkless sense of humor went over the head of the classic rock generation, at least in America. And it went over the head of the metal and grunge fans that followed. When they released their final album, with dinosaurs on the cover, the mass market still didn't quite get the joke, even if they were coming around on the sound. That basic sound has become more and more mainstream as each Ramone has died, and it's finally a cliché in advertising. Just like South African chanting signifies "this product is pure and sensitive" and jazzy fiddle signifies "this product is old fashioned and relaxing" now a Ramones riff signifies "this product is what you crazy kids need when you're feeling crazy."
And a black and pink Ramones T-shirt has become a staple for publicists dressing up their clients with a streetsmart look. Up and coming starlet? Washed up major label rocker? Slap the presidential Ramones logo on 'em, and walk 'em in front of the paparazzi.
---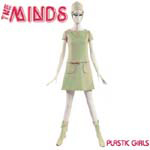 But there's still plenty of guitar rock out there that shakes things up the way the Ramones did. I heard two great bands this year that could only be described as pop punk. But they possess none of the baseball-cap blandness of the commercial version. It's hard to say a lot about The Soviettes and The Minds, 'cause yeah, what they play is pop punk. But rather than the striving accessibility of the Donnas or Green Day, these bands still have some threat to them, still sound unmanageable, even if they go down easy.
The Soviettes' second album keeps most of the songs under 90 seconds. The two slower songs don't work. But that leaves 12 pogo stick kicks, punctuated with hey hey heysthat sound unusually fresh. The lyrics hit on politics, but mostly remain inscrutable and silly. I can't figure out what "Pass the Flashlight" is about, but it's non sequiturs gel in the same way that T Rex made sense out of nonsense. Also, it helps that they avoid "that girl has got me depressed" lyrics.
But then The Minds don't avoid those themes at all, and their album Plastic Girls is even better. They've got a keyboard in the mix, and it makes a huge difference in what might otherwise sound lunkheaded. Witness the song "Smash Smash Smash." The singer works up such an ire, you can practically hear his lower lip jutting out as he repeats the title. But the purring synthesizer links the song to Blondie's "Call Me." The Ramones could have learned from this. The keys put a streak of insincerity through the whole record that keeps it from sounding strident. Both these bands maneuver around the over-emotionality and the frat boy goofiness that drag down what's sold as punk. They're uptight. Both bands have appeared on Dirtnap records, who put out the near-classic Exploding Hearts debut last year, and also a worthy album by the Marked Men. This is a label to watch.
---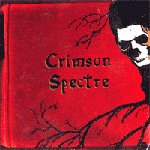 The Crimson Spectre is a more street-level punk band that rises above the rules of the genre. Their sound is solidly in the mode of mid-'80s thrash of DRI and Agnostic Front. They dress in Misfits ghoul makeup. But they are also labor activists in the textile town of Greensboro, North Carolina. Their guttural growling isn't about Dr. Mengele or Thor or Marilyn. It's about Bread and Roses in a right-to-work state, Long Kesh prison, and the "Bourgeoisie Decadence of Depression." They shift to a lower gear just enough to get those messages across. Then they let it rip. They don't need Ramones T-shirts.
---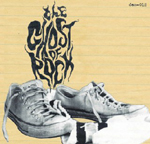 The Ghost of Rock are punk veterans, with roots that stretch back to the early Merge Records band Pipe. Their debut is solid garage meanness, mostly in that mid-tempo mode of Johnny Thunders, but "All I Ever" captures that early Superchunk vibe, before punk and indie rock were distinct entities. I'm sure they all got some very old Ramones T-shirts, but these guys don't need to flaunt threadbare style. They've earned all their tears and repairs.
---
That any genre with a post- prefix could have a revival seems illogical, but the post-punk retro of the last few years made sense. The Bush-beaten America of the early 2000s paired nicely with the burnt out cases of Thatcher Britain. It was time again for music that had a good beat you could complain to. The hype around the trend seems to have dissipated, and the bands are moving on. Liars were being groomed, it felt, to take the unfunky disco to the mainstream, but abdicated with They Were Wrong So We Drowned. They jumped a few years beyond Gang of Four, to the sublime assault of Halber Mensch-era Einstürzende Neubauten. Nothing on the record had a good beat, but it's strange how ill received it was in many quarters. It's not like the early material really suggested dance club hits. The tracks are uniformly cold, aching with a strange beauty. They've set themselves up for an unpredictability that should be exciting to follow.
---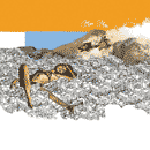 Man Man showed up with an EP that made a similar gnarled racket. Like Liars, they explore choral ideas, laying them over percussion pulled from a dumpster. The songs reappeared on an album with rhythms all over the place, from Latin to doo-wop, each propelling an incongruous front end. Their deliberately schizophrenic lyrics ("wearing that gorilla suit / you try to scare me but it won't work") are sung by a growling vocalist. At their best, they have the glee of Captain Beefheart. The Man With a Blue Turban and A Face has enough repeating themes to suggest a concept album, though they don't drop any clues as to what it might be about. That title doesn't even appear on the packaging.
---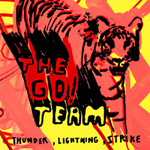 If it's glee you're looking for, The Go! Team have it. They're a real live band that captures the polished mix-and-match happiness of mash-up and Japanese pop.
---
Two of the best minds of the original post-punk wave came roaring back, too. Nick Cave's last few albums have progressed from stately to tame. He'd become so obsessed with tasteful songwriting, he was getting dull. But somehow, he decided to record his new record with a unit known as the London Community Gospel Choir. On paper, that sounds like really bad idea. But it knocked something loose. Abattoir Blues/Lyre of Orpheus is tacky, preposterous music, full of the over-the-top mannerism he abandoned after The Good Son. For the first time in a long time, he isn't trying too hard. When he sings "I went to bed last night and my moral code got jammed / I woke this morning with a Frappucino in my hand," Stephin Merritt and Morrissey have got to be biting their knuckles.
---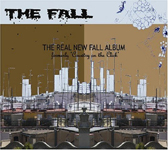 Mark E. Smith decided to make The Fall's umpteenth album less oblique than usual, and it ranks with their best work. Its full of the typical prickle and bile, but the musical settings are as polished as he's ever had. In a formal sense, The Real New Fall LP is not that different from recent U2 or Strokes. But Smith is one of most proudly ugly human beings alive, and his acid drips over the crashing waves of jangling guitar and treated vocals. This is the record Iggy Pop has been trying to make for 15 years. Great complaining you can hum to.
---
The veterans who created Pere Ubu and the Dead Boys finally got a pristine document of their first band, Rocket From the Tombs, recording for the first time in a studio nearly 30 years after the band broke up. I like it better than the Mission of Burma comeback, and I hope they continue.
---
The Chromatics went to the end of the night with their Plaster Hounds. Taking the 3 a.m. scarcity of early Public Image Ltd and the echo-upon-echo of the Swell Maps, the made a nightmare of a record that built on those band's Lee Perry borrowings, without ever evoking reggae. Labelmates Red Eyed Legends also made some whitelight dub sludge. Gold Standard Labs is another label that's getting very interesting.
---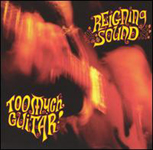 Reigning Sound are showing up on a lot of year end lists, and they deserve it. "Your Love is a Fine Thing," hits immediately, sounding like a Brian Jones arrangement that the Stones never got around to recording. The rest of their garage rock and R&B blur takes a few listens to distinguish itself. The quality of their songwriting soon shows through. Half the songs they create on Too Much Guitar seem like they've been around forever.
---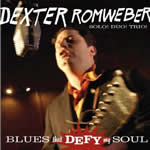 Dexter Romweber still ain't too old, even though he's been plying his haunted rockabilly since the '80s, fresh out of high school with the Flat Duo Jets. His latest solo album is one of his most cohesive, and his way with a sad ballad keeps getting more affecting as the years roll by. And roll over him.
---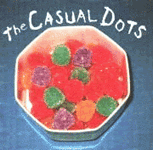 The Casual Dots record sums up a lot of what's been great in guitar rock for the last decade. The band formed out of Bikini Kill and Slant 69, two bands connected with the Riot Grrl punk of the early '90s, and illustrates how successful the Riot Grrl agenda was, even if it didn't produce a set of albums as timeless as other rock outbursts. Riot Grrl dispensed with any lingering gender barriers left in rock. It's no longer a masculine music, with female participants either sexpot frontwomen or overcompensating tough girls, leaving the subtler songwriters to folky solo projects. Any given band that bubbles up from the underground is likely to be mixed gendered, and all-female bands don't arrive with much notice.
The Casual Dots' self-titled record toys with abrasive post-punk, gentle retro R'n'B, stoic anti-folk and raw garage stomp, but like the best bands, doesn't seem beholden to any genre. The record depends on its 10 well written songs, and those genre explorations emanate from the songwriting, not from any attempt to be eclectic. It's not an album that jumps out; in fact, part of its charm is its insular quality. It's like they're playing to an empty room, though I hope that never happens.
To narrow down and number it:
1. Casual Dots - Casual Dots (Kill Rock Stars)
2. Reigning Sound - Too Much Guitar (In The Red)
3. Nick Cave - Abattoir Blues / The Lyre of Orpheus (Anti-)
4. The Fall - The Real New Fall LP (Narnack)
5. Dexter Romweber - Blues That Defy My Soul (Yep Roc)
6. The Go! Team - Thunder Lightening Strike (Memphis Industries)
7. Chromatics - Plaster Hounds (GSL)
8. Man Man - The Man With a Blue Turban and a Face (Ace Fu)
9. Rocket From the Tombs - Rocket Redux (Smog Veil)
10. Liars - They Were Wrong So We Drowned (Mute)

By Ben Donnelly