Dusted Features

Six More Shots from the Gold Label Blue Note Bottle. Dusted's Derek Taylor tends the bar.



Not Just For the Cognoscenti
There was a time when Blue Note ruled the jazz reissue roost. They're still perched near the top of the pecking order, but an unfortunate tendency for classic titles to cycle in and out of availability often causes even their loyal consumers pause. The Connoisseur Series launched back in 1993 to help combat these consumer frustrations. By returning select (and often obscure) titles to the racks for a finite period of time and at a slightly inflated list price, Blue Note sought to satisfy fan hunger and hedge their bets on costs in the bargain. Inevitable attrition was explained up front and buyers had a chance (albeit limited) to acquire desired titles in compact disc format. Over a decade later, the series is still going strong with worthy classics still finding their way into renewed life. The six new titles in this survey represent a particularly potent batch.
---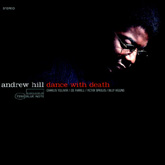 Andrew Hill – Dance of Death (Blue Note)

Until recently, Andrew Hill's lot in Blue Note's reissue enterprise left a lot of fans scratching their heads. Just as one album returns to circulation, another regrettably becomes extinct. This revolving door policy makes the probability of all the pianist/composer's work staying 'in print' contemporaneously seem a highly unlikely prospect. Then again, considering the music's current market share, jazz fans can't really complain. Dance of Death represents another gap filled. Listeners with even a passing interest in the Hill's work should squander no time in peeling off the necessary bills to procure a copy.

The band on board is a beautiful assemblage of talent. Fellow unsungs, trumpeter Charles Tolliver and multireedist Joe Farrell, heard here on tenor and soprano, comprise the frontline. Bassist Victor Sproles and drummer Billy Higgins complete the final two points of the traditional rhythm section triangle. Six compositions, all originals hatched from Hill's pen, along with an alternate take of the title track constitute a generous program of music. Hill's versatility as a composer is in full effect. His richly nuanced piano is the lightning rod for all of the pieces, but not ostentatiously or obtrusively so. Dark, densely patterned solos like that on the opening hue-oriented "Yellow Violet" coalesce with a complex logic, but never are his improvisations inscrutable or overly introspective. A natural equilibrium between intellectual and visceral poles gives the music both a welcome weight and momentum.

Though unequivocally at the helm, Hill engineers plenty of space for his partners. Higgins' tempo suspending beats on the appropriately titled "Partitions" and Farrell's soulfully incessant tenor solo on the bluesy "Fish 'n Rice" are two early examples of this shrewd egalitarianism. Sproles' prominent role as harmonic fulcrum for Farrell's dusky, hard-trilling tenor on both versions of the title track also helps make for an ensemble record of uncommon consensus. As a first tier post-bop jazz quintet stocked with creative capital, Hill's band exemplifies the mold. The only drawbacks to the album are a handful of intrusive fades at the culmination of several tracks that appear to be artifacts of the original tapes. By a narrow margin, this date and the one from Sam Rivers rank as the picks of the batch.
---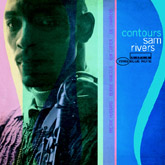 Sam Rivers – Contours (Blue Note)

Late to the recording game, Rivers didn't cut his first album as a leader until his early forties. He's since made up for lost time and is still actively recording in his eighties. Oddly enough, much of his back catalog at Blue Note has suffered neglect even more egregious than Hill's. Contours comes from early in his career when, contract in hand, Rivers cut his sophomore session with a crackerjack quintet of corralling label regulars: Freddie Hubbard on trumpet, Herbie Hancock on piano, Ron Carter on bass and Joe Chambers' occupying drums.

As was his lot on so many '60s sessions, Carter is recessed in the recording, his bass patterns more often felt than explicitly heard. Hancock and Chambers straddle the 'outside-in' nature of Rivers' four originals with a limber sense of time and structure. The track titles extrapolate their clever harmonic structures. On "Point of Many Returns," Rivers refrains until both Hubbard and Hancock have had their say, eventually alighting on sibilant soprano. Carter's speed-walking solo suffers from slightly fogged-over fidelity, but he still manages to punch his sprinting figures into the foreground. Hubbard plays in prime form throughout the set, telegraphing stentorian chains of notes that strike their melodic targets dead on. Rivers' rangy tenor assumes first solo honors on the malleably-metered "Dance of the Tripedals," a terpsichorean rondo with another stellar showing by Hubbard, whose control of pitch and placement belies his youth. The two horns engage in a daring duel of darting tones over a pedal point anchor by Hancock, only to drop out and leave much of the remainder to the rhythm section.

"Euterpe" showcases Rivers' quicksilver flute in dark minor-keyed context. Hubbard affixes mute and the pair makes for a gorgeously contrasting tandem of tones as they glide through the theme. Chambers' brushes and a thrumming ostinato by Carter that eventually spools out into another pitch-perfect drone solo to complete the mood. Two takes of "Mellifluous Cacophony," another stomping ground for Rivers' brash tenor and Hubbard's clarion brass that also contains brilliant playing by Hancock and Chambers, shore up the disc length to just under 50 minutes. Rivers' Blue Note records represent a body of work among the finest of his storied career. All are essential and it's gratifying to find this one finally back in circulation.
---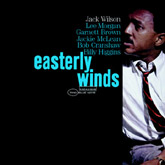 Jack Wilson – Easterly Winds (Blue Note)

With so many legendary names on the label it's easy to miss the lesser profile members of the Blue Note family who had a hand in cementing its reputation as a jazz juggernaut. Pianist Jack Wilson counts within this oft overlooked number. He only waxed three albums for the label, the third of which took an unfortunate turn into commercial pop-jazz. Easterly Winds, his second, is very much in line with the first. Six post-bop originals offer up plenty of blowing fodder for the dream team of Lee Morgan on trumpet, altoist Jackie McLean and trombonist Garnett Brown. Bassist Bob Cranshaw and drum doyen Billy Higgins aid and abet the leader as the remainder of the rhythm section. Judging from their suspiciously blissed-out countenances captured in the liner photo of the band, they were happy to have the gig.

Wilson's "Do It" kicks off the date as an archetypal hard-bop number. A rolling, blues-rooted beat and riffing horns set the stage, segueing into terse, but tasty solos from McLean, Morgan and Brown in polite succession. Higgins' opens "On Children" with a boisterous burst of drum clatter that gives way to a tightly harmonized theme from the frontline. Garnett breaks ranks with a solo steeped in smoothly probing notes followed by McLean in a laidback cerulean mood. Higgins' steady rim shots keep propulsive time paving the way for a coolly rippling statement by Morgan. The ballad standard "A Time For Love" reorients focus on Wilson's soft side and feels sedately saccharine in comparison to the other numbers in the set, despite some fine whispered brushwork from Higgins.

The disc's title track returns the quintet to more authoritative footing. McLean's throaty alto leads the charge into a unison theme, but it's Morgan who edges out for first solo honors, shaping another scintillatingly concise construction. The altoist and Garnett follow suit, the latter man riding out the changes and once again working his slide with adroit skill. "Nirvanna" unfolds on another lush ballad theme with Higgins' brushes providing lavish rhythmic texture to the verdant melodic layering by the horns. "Frank's Tune" charts a similar course, once again taking canny advantage of the rich harmonies procurable from the three-pronged frontline. While not that far removed from the standard blue-chip hard-bop meet-and-greet of the era, this is still an enjoyable album and one fans of the idiom will almost certainly find a soft spot for.
---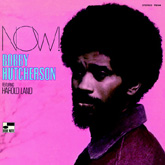 Bobby Hutcherson – NOW! (Blue Note)

The sale of Blue Note to Liberty Records in 1967 accelerated the surviving roster's push in fusion-infatuated directions. Electric instruments became staples on records. Pop-oriented song structures replete with lyrics were common. Vibraphonist Bobby Hutcherson weathered the transition largely without a hitch. For Now!, he enlisted lyricist Eugene McDaniels and a coterie of vocalists to join his working quartet, jointly led by tenor saxophonist Harold Land. Conguero Candido Camero and rock-influenced guitarist Wally Richardson also augmented the heady instrumental side of band. Added to the original album are four cuts taped live at the Hollywood Bowl eight years later. On these, Hutcherson fronts a different sextet backed by the mighty L.A. Philharmonic Orchestra.

Unlike many projects from the era, the original album achieves an effective balance between vocal and instrumental elements. McDaniel's socially conscious lyrics have a strong theatrical quality that benefits from his soaring tenor voice and the close support of his small choir. His ululating cries on "Hello to the Wind" stoke the tension alongside Land's forceful trilling saxophone. Land and drummer Joe Chambers are the linchpins of the band, the latter shaping a string of hard-bitten emotive solos that heat and propel the songs as the leader's nimble-malleted notes cool and add tonal texture to them. Land's gossamer rasp on the fragile title ballad builds a cogent contrast to the earlier urgency.

Chambers locks regularly with Camero, their synergy proving the guiding component on "The Creators," a 12-and-a-half minute rhythmically-obsessive suite scripted by bassist Herbie Lewis. Cathedral-sized vocal harmonies dance with Land's adamantine tenor atop flanging acid guitar and a polyrhythmic cadence, but the track suffers from a prolix deficiency in dramatic development. "Black Heroes" stymies under the reverse problem of overwrought lyrics. McDaniels invokes a titular pantheon of predictable Civil Rights pillars through a chorus structure that can't accommodate the phonetic girth. A typically enlivening solo from Land and another from pianist Stanley Cowell saves it from ruin. The tacked on orchestral tracks pale a bit in comparison without the focused edge of the earlier pieces, but they pad out the disc's running time to a respectable 48:30.
---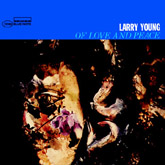 Larry Young – Of Love And Peace (Blue Note)

Organist Larry Young was one of Alfred Lion's great recording coups, on par with Thelonious Monk and Herbie Nichols in terms of importance to the lineage of jazz keyboard. Young just happened to prefer amplified ivories over acoustic ones. The added juice at his disposal anchored to a post-Coltrane method of improvisation yielded flights on the instrument that to this day outdistance equal. Of Love and Peace followed previous precedent-setting albums like Into Something and the seminal Unity and found Young experimenting with a two-drummer, three-horn schematic. Two originals and two standards constituted the grist for the chosen ensemble's heavy-grinding improvisatory mill.

Trumpeter Eddie Gale carried the prestigious credentials of a stint with Cecil Taylor in his folio (Unit Structures), but his work here is surprisingly slipshod in places. He seems to be aiming for a Don Ayler sort of articulation with textured trills taking priority over provident note placement, but the sections of his solos feel more like brittle flubs than compelling statements. Sometimes the explosive style works, as on his fulminating solo on the opening "Pavanne," a 14-minute conflagration that implodes in an abrupt studio fade. At other junctures, his lines sputter and fizzle like duds shot from a starting gun. Tenor saxophonist Herbert Morgan fares better, but it's Blue Note studio ace James Spaulding (a guy who oddly never earned a date of his own under the label's aegis) who steals the show from the horn section slot. Young is positively on fire, wielding note streams with a precision and power that never overwhelms his partners. No small feat in light of the amount energy pulsing through his keys and pedals.

The initial polyphony of the title piece segues into a ripping solo from Gale flanked by the tumbling clatter of the dual drummers and Young's free-floating church-inflected chords. A fast-clip reading of Miles Davis' modal masterpiece "Seven Steps to Heaven," saddled with another inexplicable fade out, and Young's own "Falaq," an impromptu composition acting as atmospheric yin to the opener's energetic yang, close the set. While not quite on par with Young's best due to the inconsistencies of some his supporting cast, it's still an album well worth acquiring.
---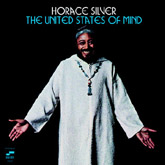 Horace Silver – The United States of Mind (Blue Note)

The final entry in this survey collects a trilogy of albums (That Healing Feeling, Total Response and All) under the clever collective header The United States of Mind. Pianist and composer Horace Silver was a man in artistic and ideological flux when these platters were cut for the Liberty-owned Blue Note. Ears receptive to the dominant strains of fusion and soul and equipped with sincere beliefs in metaphysical paradigms based on Eastern and Western alternative religions, he set about tailoring these personal renovations to his music. His friendly visage decked out in colorful dashiki, turban and forehead-affixed jewel on the cover of That Healing Feeling was a visible indicator of the change. Sadly, a sizeable contingent of his fan base, harboring expectations entrenched in his earlier hard-bop classics for the label, balked at the metamorphosis and sales of the records soured.

Spread over 28 tracks, the results do sound dated. Silver sticks to electric piano for the duration. The majority of tunes are modal and vamp-based numbers, some approximating the simplicity of game show jingles. Many have discernable roots in the leader's gospel-saturated early work even if the newfangled amplified instruments lend them a new patina. Several different rhythm sections stacked with top-flight session men like bassist Bob Cranshaw and drummer Idris Muhammad help solidify the robust groove. Supple charts also allow for strong solos from the various horn frontline combinations. The alternating bullpen of talent includes George Coleman, Houston Person and Randy Brecker among others. A quartet of vocalists led by Andy Bey complete the ensemble pool.

Song titles like "Love Vibrations," "Wipe Away the Evil" and "There's Much to Be Done" point directly to the philosophical tenets of Silver's new approach. It's a preoccupation that would play out through end of his career with Blue Note in the mid-70s. There's also a fair share of oddities like "I'm Aware of the Animals Within Me," "Old Mother Nature Calls," and "My Soul is a Computer." "I've Had a Little Talk" describes a bargaining session between Bey and his body where he consents to a macrobiotic diet and regular exercise in exchange for healthily functioning organs above a bedrock wah-wah piano and blues guitar. But even the sappiest, most predictably earnest songs possess a disarming charm. A few genuine classics surface like the haunting "Nobody Knows," which features a gorgeous lullaby-like vocal by Jackie Verdell over a skeletal piano ostinato and pattering brushes. Silver's financial star may have tarnished a bit with these releases, but his creative integrity lost little of its sheen.


By Derek Taylor