Dusted Features

Adam Strohm relays his personal favorites from 2004.



End of the Year: 2004 by Adam Strohm
A litany of what didn't go right in the world in 2004 would be a long one, so I'll instead aim to concentrate on the positive. The Pittsburgh Penguins finished last, but were one of the most likable teams I've ever followed. Arsenal went undefeated, and I finally got around to buying that iBook. Other things happened, too, but this article's about the music, so I'll move on…
---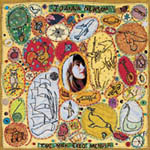 I'd be remiss if I weren't to begin by mentioning Joanna Newsom and her album The Milk-Eyed Mender, which took me by surprise and became an unexpected (and, for me, a somewhat uncharacteristic) favorite. It's a popular pick, I know, but Newsom's debut is my album of the year. Wolf Eyes and Hair Police both dropped bombs with Burned Mind and Obedience Cuts, and if 2004 is truly the year noise broke, these two will have been a big part of it. Leslie Keffer, Mammal, and Cotton Museum may not have played such an obvious part in the genre's explosion, but they were responsible for some quality releases as well. Scatter, the Scottish folk/jazz conglomerate (who, for a time, shared Nick McCarthy with Franz Ferdinand), resurrected the spirit of Ayler in their combination of free jazz, ethnic folk music, and festive energy. The Void proved that Weasel Walter and the new line-up of The Flying Luttenbachers can still deliver the goods, meshing the best qualities of the Revenge and brutal prog eras of the band. Mission of Burma became undeniably relevant (again) with the release of ONoffON, likewise, The Ex refused to fade into obscurity, with an exceptional US tour and the two-disc Turn. Kyle Bruckmann and Henrik Rylander issued discs of conceptual ingenuity and minimalist sensibility. And, finally, though their long-awaited studio debut was pushed back into 2005, the Congolese troupe Konono No. 1 are finally available on CD with the release of Lubuaku, the most spirited live recording I heard all year.
---


The original No Wave provided two of 2004's strongest reissues, with DNA on DNA unearthing more than an hour's worth of the quartet's terse rock deconstructions and Mars' last studio work finally being heard in its original binaural glory on The Complete Studio Recordings. Crooked Rain, Crooked Rain: LA's Desert Origins reminded me of why I loved Pavement, and why I'm not so keen on Stephen Malkmus as a solo artist.

On the local Pittsburgh tip, Conelrad finally appeased the masses with the release of A Final Dissolution, the city's best 2004 release. Slices formed, released a great CD-R EP, Do U Like Mud?, and became a two-man wrecking crew. Pay Toilets may never capture the true bizarre and tumultuous qualities of their live show on record, but Freedom Rock/Wet 'n' Wild USA is an enjoyably gross side none the less.

Having been, as of yet, unable to rationalize the spending of almost $100 on Albert Ayler's Holy Ghost box, I can only imagine how stellar it must be.

Live highlights for the year include the intimate Left Fest in Lexington, KY, Burning Star Core in Newport, two ear-splitting Prurient performances, and Erik Friedlander in front of a small but attentive crowd. The USAISAMONSTER, sweaty and tired at the end of a tour, were still in high form, and Auk Theater provided one of the year's most unique performances. The Flying Luttenbachers, Mammal, Terry Riley at the Austin Film Festival, the list goes on and on. Sword Heaven and Air Conditioning provided two of the most exhilarating exhibits of brutality I witnessed in 2004, but both have yet to transfer the fury accurately onto vinyl or CD.

Overall, not a bad year for music, though I usually find myself arguing with anyone who terms any year a "bad" one as far as new releases go. There's always good new stuff out there for the finding. I'm sure I missed a lot of good music in 2004, but, even with Soulseek, it seems inevitable. It's all out there, though, for the hearing. I'm not usually one to make new year's resolutions, but perhaps the exploration of some new (and old) artists and styles warrants making one this year…or any year. Give me some new music (and at least a partial NHL season, if it's not too much trouble), and I'll be a happy guy.


By Adam Strohm