Dusted Features

Dusted's Matthew Wuethrich reports from the Jyrock rock festival in Jyväskylä, Finland, where Dungen stole the headlines but some underground veterans stole the show. Photos by Reijo Hyvärinen.



The Big Finnish: Jyrock rock fest
Bridging the transition between winter and summer in Finland is Jyrock, the country's first indoor rock festival, held every mid-April in the central Finnish university city of Jyväskylä. In its two days this year, crammed with 16 bands, one can see the messy history of rock. Even though the festival has broadened its line-ups in recent years, festival organizer Ville Häkkinen says in the festival program, "The Japanese nose flute is still seen less in our festival than guitar, bass and drums." Jyrock stays focused without being narrow-minded, yet remains open-minded without being self-consciously experimental.
Häkkinen, writing in the program, sums up Jyrock's aesthetic as, "Punk is pleasure, rock is rough and the moog makes the most beautiful beep. Period." This year's festival, drawing groups from Finland, Estonia and Sweden, combines the trendy with the timeless, the youthfully energetic with the stage-savvy, the pristine melody with the raucous outburst, the technology wise with the primitive grunt. In the end it is the timeless and the stage-savvy that win out – groups like 500 kg lihaa, the Rättö and Lehtisalo duo and The Sultans – but every act emits an encouraging earnestness.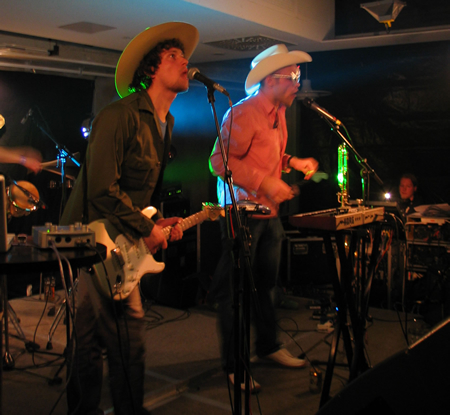 Estonia's Popidiot contains all of Häkkinen's elements. This duo, expanded on stage to a four-piece, has a little of everything: pumping synth-bass, heavy guitars, stomping rhythms, punk-sneer political chants, absurdist humor and even a little trombone. Their social commentary, a diatribe against President Bush ("Johnny Dynamite") and a rant against multinationals (Fuck William Morris, Fuck McDonalds, etc.) lacks depth, but their visible enthusiasm, bizarre exhortations of Do the rodeo, Do the Texas, Do the Tennessee, "Owner of a Lonely Heart" cover, cowboy hats and goofy sunglasses lets the audience be part of, rather than the butt of, the joke.
The festival is held at Ilokivi, the University of Jyväskylä's student union. (The name means "joystone" and refers to a large rock in the nearby woods where students go to drink and engage in, well, other joys.). The audience, made up of mostly early twentysomething students, comes to drink a few beers, enjoy the music and nothing more – a refreshing change from more serious-minded festival atmospheres.
Two floors of continuous action create an insular world: two stages, one upstairs and one downstairs, with groups each getting 45-minute sets; DJs playing everything from Beefheart, Velvet Underground, and The Clash, to Van Halen concert documentary audio clips, Madonna and The Monkees' "Stepping Stone"; a tented outside terrace with locals pushing plates of beans, veggies and flat potato bread while DJs from Rikos Records, Jyväskylä's electro label, cobble together sets of '80s trash, pulsing techno, and excerpts from the Finnish police blotter. The atmosphere is light-hearted and unpretentious, but occasionally overwhelming. Bureaucratic obstinacy this year refused the festival a license to operate past 3 a.m., meaning there was little, if any break between sets.
The manic flow of the festival is best expressed in its MC, the underground personality and radio DJ Paska ("Shit" in Finnish). His tourettic stream-of-consciousness rants and improvised punk a cappella songs keep things moving. Whatsmore, the festival schedule is well-balanced, switching styles enough so that the audience is not numbed into submission. After the noise explosion of Sergio on Saturday, guitarist Läjä Äijälä's primitivist blues duo Sultans makes for a relaxing contrast. Äijälä is a true underground original in Finland, making some of the first DIY in records in the late 70s. Just drums and guitar, Sultans' sound is sparse to the point of anemia, but a better distillation of the roots of rock would be hard to find. The vintage Hammond B-3/drums groove of Nieminen and Litmanen provide a soothing tonic to intense riffing of Rättö and Lehtisalo.
The festival organizers look to expose young and unknown bands, or put together unique happenings. Such an approach means that groups like the Swedish duo Lo-Fi-Fnk get a chance to make the late-night Saturday crowd shake with their white-boy Prince send-up. Regina, a young four-piece from Tampere, Finland, put on an effective set that brings to mind the springy rhythms of To Roccoco Rot. Vocalist Iisa strikes a strange balance between the sprightly and the robotic, almost mimicking with her voice the tinny, repetitive beeping of Roland synths and drum-pad. The laptop/guitar duo Pasilan Laulajat deliver a charming mix of goofball synth-melodies, breakbeats, faux hip-hop beats, handclaps and jangling guitars, but the impact and the sound is a bit thin, as if they are playing through cheap PC speakers.
The Swedish duo Suburban Kids with Biblical Names, rounded out with a drummer and a bassist, eschew energy for catchy melodies and '50s vocal harmony with English lyrics tending toward the angst-ridden, irony-riddled and love-lost variety. Their pieces are short, well-constructed and well-executed, but still lack visceral impact. Showing grander intentions are Pori, Finland's The Low-Life Rock'n'Roll Philosophers. Originally formed to provide soundtracks to short films, the group added vocalist Noora Tommila, and with it a rich layer of swooping Bjork-like melodies to their multi-part, prog-inflected pieces.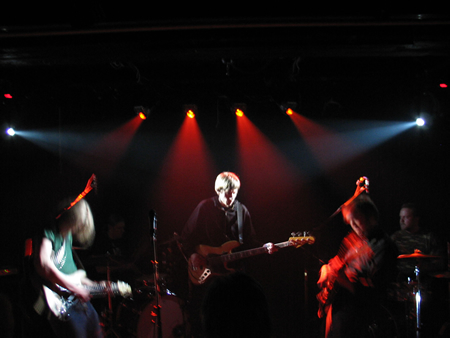 Another Pori band, Stalwart, a side project of Circle guitarist Jyrki Laiho, hurtle through space like a sleek missile seeking a target to detonate, their instrumentals giving off the same feeling of endlessness as Circle pieces, but with more dynamic changes. Propelled by two drummers, Laiho and a second guitarist lay down chunky metal riffs over sludge-covered bass. Add in some electro-acoustic noise and manipulated voice and you have the ingredients for one of Jyrock's highlights.
If Stalwart is a missile, then Sergio, another Finnish noise rock outfit, is a bomb. Their tightly rehearsed songs, dark in tone, swirl into towering Sonic Youth-type passages, full of thick bass and relentless drumming. One of the festival's loudest, but also one of its best.
Probably three of Jyrock's biggest draws were the late-'80s underground legends 500 kg lihaa, the Rättö & Lehtisalo duo and Dungen. Dungen's '60s psychedelic folk-rock revival, however, do not meet expectations, as their clamorous set fails to match the confident, laid-back vibe of the veteran Finns.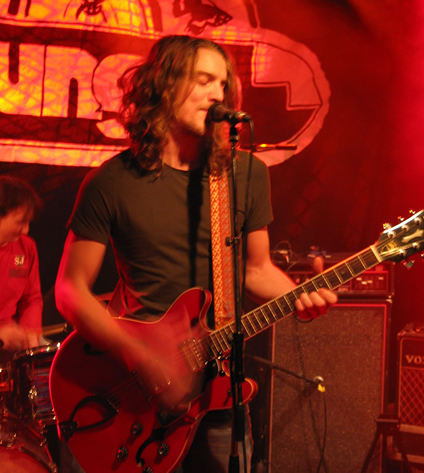 Dungen headlines the first night. Singer/songwriter/multi-instrumentalist Gustav Ejsten has trouble staying in tune and the band gets sloppy at times, substituting energy, hair-tossing and low-riding jeans for stage presence. The well-crafted songs of Dungen's much lauded Ta Det Lungt get traded in for over-charged guitar and acrobatic bass lines, the group diving headlong into their material with little thought of building tension. When Ejsten switches between flute and Rhodes it adds some spice, but not enough to overcome the disappointments.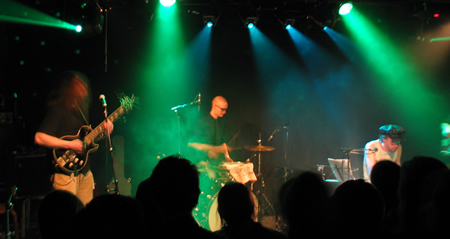 It is the duo of keyboardist/vocalist Mika Rättö and guitarist Jussi Lehtisalo, along with a drummer and bassist, provide the first night's highlight. In their first live appearance ever, the quartet unleashes the full potential of Kraftwerk's motorik rhythms, and in the process flex the muscle the other synth-based groups lacked. Lehtisalo is better known as the guitarist from Pori-based trance-rockers Circle, and Rättö, in addition to participating in Circle, lends another Pori band, Kuusumun profeetta (Moon Fog Prophet), their distinctive sound. Rättö, singing in Finnish in a voice that would not be out of place on an Iron Maiden record, delivers pseudo-science fiction lyrics, as if pulled from a Phillip K. Dick novel, full of letter and number combinations and wordless chants. As the band stretches out over infectious riffs, focused on some distant destination that they will never reach, the crowd pogoes sings along with the nonsense chants.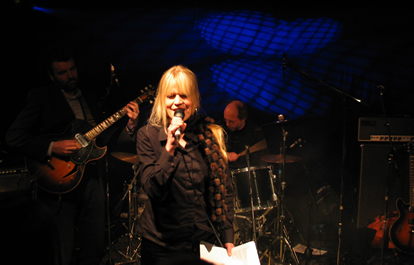 But 500 kg lihaa gives the most affecting performance of the entire festival. This veteran outfit, fronted by the smoky-voiced Maritta Kuula and featuring the legendary – at least in Finland – Kauko Röykhä on guitar, spins a spellbinding set. Their lyrics are mostly drawn from the poetry of early twentieth century Finnish Romantic poets like Uuno Kaila, but their music derives from the Velvet Underground's spooky, yet unforgettably catchy song craft. Needling riffs and sparse keyboards insinuate themselves between their seductive, sinewy backbeat. Kuula stalks the stage with a casual confidence, while Röykhä pushes the audience's button with a single, calculated sneer. Such subtleties Dungen has yet to learn.

By Matthew Wuethrich