Dusted Features

Year-End Zone Superiority as Witnessed by Dusted's Doug Mosurak, of Still Single fame.



Crucial Advantage!
(Doug Mosurak)
2005 marked a new and exciting chapter in the legitimacy of my opinions! I enlisted here at Dusted in Q1 and haven't looked back. "Still Single" remains a rewarding and challenging venture that I'm very proud of. Myself and fellow Dusted writer Michael Crumsho have started our own DJ night in Brooklyn (it's every 2nd and 4th Friday at Camp, 179 Smith St. btw Warren & Wyckoff in Carroll Gardens). More music is being sent to me than I can listen to. And I'm promoting the first in a series of shows co-sponsored by Dusted and "Still Single," on Friday January 6th at the Knitting Factory Tap Bar here in NYC. On the bill are Fucked Up (Toronto), Kill Your Idols (NYC), Pissed Jeans (Allentown), Clockcleaner (Philadelphia) and the Conversions (Boston). 8pm, $10, all ages. Be there.
---
Here are some exciting things to talk about.
Top 11 Albums of 2005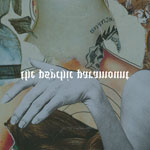 11. The Psychic Paramount - Gamelan into the Mink Supernatural (No Quarter)
Flashy, engaging, overdriven prog-noise-psychedelic rock from Brooklyn, pushing its way into the Top 10 through sheer force and determination. It's the most memorable of its kind this year for many reasons, but their determination to not stick to one sound or style, and to say what they need to say musically without lingering is a virtue few of their colleagues can realize.
---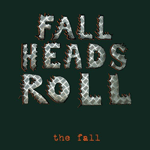 10. The Fall - Fall Heads Roll (Narnack)
The fire that has gotten under Mark E. Smith's wrinkly ass in the last few years is inexplicable but welcome, as he more than saw fit to run his band – my favorite of all time, mind you – into a handful of stylistic and sociological walls over the past few years. Thus, it's a great pleasure to announce that he and his group of plucky youngsters have seen fit to add depth to their last blast of 2-D garage noise blare, and once again become a menacing and vital act that is the yardstick of post-punk civilization.
---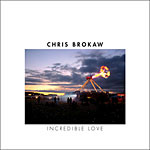 9. Chris Brokaw - Incredible Love (12XU)
In a year desperate for a guitar hero that wasn't psych, folk, or some combination of the two, strode in Chris Brokaw with a long-awaited collection of new singer-songwriter material, the first since Come disbanded. At once countrified, intelligent, confident, complex and windswept, Brokaw is finding himself an active and bracing position between the best works of Lindsay Buckingham and one-time collaborator Steve Wynn, as well as harnessing the post-punk blues menace he's acutely known for to more subtle and effective means. The sleeper of 2005, easily, as well as a damn fine record for road trips.
---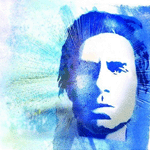 8. Jamie Lidell - Multiply (Warp)
As a live performer, Lidell ran me and several others staggering for the exits in NYC with a prolonged barrage of layered beatboxing, samples and electronics. The complaint of many was that the album that supported said live act, Multiply, was too little of the same; that he'd forsaken his hard-working techno-funk fanbase built off of Super_Collider and his jumbled debut solo album in favor of Jamiroquai-style blue-eyed soul. That the record hits the happiest medium of both sides of his performing character isn't enough to satisfy anyone but me, perhaps – his complete domination of the technical landscape and careening, joy-filled vocals hit the bulls-eye every time.
---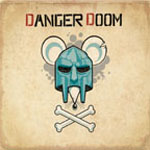 7. Dangerdoom - The Mouse and the Mask (Epitaph)
Strategic marketing may have been the glue that held this album together, but The Mouse and the Mask is so much more than just a branding offshoot for cable television. The thematic links – a concept album loosely built around the characters of Adult Swim's Sunday night lineup – provides Doom with more focus as an MC than he's had since the days of KMD, and Danger Mouse, working with the full complement of Hanna-Barbera library music and samples, a ticket out of the house of gimmicks his Grey Album built. It bumps hard, first and foremost.
---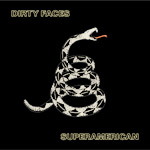 6. Dirty Faces - Superamerican (Brah)
Give most bands a record label and they'll sign their friends' bands. Give Oneida a record label and you realize that they just have better friends than most. Dirty Faces have been active in Pittsburgh since the mid-90s, the outwardly p-rock (where p can stand for punk, pierogi, Polamalu, etc.) branch of Rickety Worldwide, a local collective of musicians and artists with heightened sensibilites and a bullshit detector more sensitive than the silent alarms at Bank of America. (At a recent Brooklyn show, their bass player ran out into the crowd and dropped some wiseacre who dared say "fuck the Steelers" with a swift kick square to the balls.) After two releases with little more than local distribution and an ever-changing lineup, they turned pro with Superamerican, a supremely greasy slab of everything the better-known rock 'n' roll throwbacks forgot: swagger, grooves, noise, and a beyond-possessed hypeman in singer T. Glitter. At almost an hour, the album breezes by at a clip, evoking everything that matters about the Fall and Royal Trux into a classic rock framework. Destructive, brilliant sounds that'll devour any drug or drink you can throw at it.
---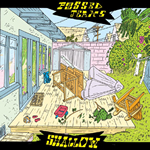 5. Pissed Jeans - Shallow (Parts Unknown)
Allentown, PA's Pissed Jeans are a throwback to when punk rock and hardcore were a dangerous place to be, a landscape of threatening violence, unpredictable crowds, antisocial behavior and surprising yet often counter-intuitive jags of creativity. Their songs might not be about much of worth ("Ashamed of My Cum," "I'm Sick," "Closet Marine") but singer Matt Kosloff and his band strangle them standing and beat the music to a pulsing, bloody mess, with little regard for safety or good taste. In the tradition of Flipper, No Trend, Drunks with Guns and early Butthole Surfers, and every bit as vital – even more so now that we're coming up on a generation that doesn't know any better.
---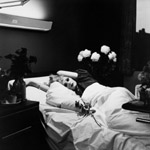 4. Antony and the Johnsons - I Am a Bird Now (Secretly Canadian)
Chilling, fragile, shatteringly beautiful collection of torch songs and fretful ballads from Mr. Antony Hegarty and his consortium of musicians (including Lou Reed, Boy George, Devendra Barnhart and Rufus Wainwright, to name but a few). This record hit me at a time in my life when things truly weren't going so well, and lifted me up to a state of defiant euphoria I can't even begin to describe. It's like baby animals huddling for warmth and struggling for life, wet and confused. No other record this year could match the feelings it evoked.
---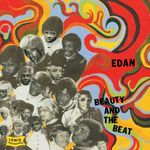 3. Edan - Beauty and the Beat (Lewis Recordings)
Some of us were born at a particularly awesome time in the development of pop culture and got to come home from school every day to a brand-new episode of "Yo! MTV Raps" and further glimpses into the Golden Age of Hip-Hop. Bi-continental everything man Edan (producer/DJ/MC extraordinaire) built his debut album around the reverence of the era's irreverence, and also its attitude and charm, but with Beauty and the Beat he takes those same notions and lays them down over a tripped-out, raw mélange of all things psychedelic and guitar-driven, packed with dozens of '60s rock fuzz and Small Faces-esque acid-soaked blotter-pop. One of many inventive hip-hop releases of 2005, but one of the few that could stretch its worth to album length.
---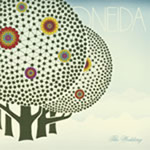 2. Oneida - The Wedding (Jagjaguwar)
The Band That Could Do No Wrong hits it out of the park again, this time with delicate and just-perfect chamber pop and hazy, drugged late afternoon parlor missives of love lost and fathomless hope. Aside from one rock steamroller, this one's a whole different Oneida than you may be accustomed to, and one you'll probably never hear from again, but oh, what glory lies within.
---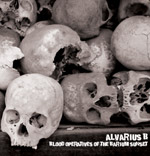 1. Alvarius B. - Blood Operatives of the Barium Sunset (Abduction)
If you took the Antony and the Johnsons and the Oneida records of this year, stuck your hand down their throats and pulled them inside out, you'd end up with a gory animated corpse of an album, scattering root structures, capillaries and potato bugs into the harmful light of day. That's about as close to Alvarius B. as you're gonna get outta "contemporaries." There are none, really. Sun City Girl Alan Bishop returns with his first solo effort in seven years, and it's a haunting, menacing, demanding listen of ghost bait, conspiratorial rant, vampiric grasp and otherwordly beauty. With one swipe it pretty much erases the legacy of Tom Waits once and for all. There was nothing better in 2005, and 2006 is going to have a hell of a time catching up.
Very Honorable Runners-Up:
Cass McCombs - PREfection (Monitor)
Jesu - Jesu (Hydra Head)
Part Chimp - I Am Come (Monitor)
Jackson and His Computer Band - Smash (Warp)
Broadcast - Tender Buttons (Warp)
Meneguar - I Was Born at Night (Magic Bullet)
Deadly Snakes - Porcella (In the Red)
Magik Markers - I Trust My Guitar, Etc. (Ecstatic Peace)
Ris Paul Ric - Purple Blaze (Academy Fight Song)
Black Mountain - Black Mountain (Jagjaguwar)
Oxford Collapse - A Good Ground (Kanine)
Constantines - Tournament of Hearts (Sub Pop)
---
Favorite Reissues/Mixes: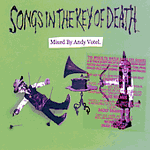 Andy Votel - Songs in the Key of Death (Fat City)
Andy Votel - Vertigo Mixed (Family Recordings)
V/A - Welsh Rare Beat (Finders Keepers)
V/A - Folk Is Not a Four-Letter Word (Finders Keepers)
V/A - Prog is Not a Four-Letter Word (Delay 68)
All mixes and/or compilations, all in whole or part compiled by Manchester deity Andy Votel, who at 29 has amassed a lifetime of worthwhile musical output into a steady stream of post-modern-minded discs. Transcending what usually qualifies as A-list material for such mixes, Votel handles label comps (whittling down the whole of the Vertigo's prog-rock spectrum to a roiling, naphtha-thick outpouring of breaks and noise, and championing the Welsh national label Sain with a collection of their most unique regional material), mixes (dense affairs pitched up and flashed out), and individual artist retrospectives with the care and enthusiasm of the biggest head out there, minus the kneejerk exclusionist tendencies that obsessed fans secrete. He's the best, just deal with it. Get behind his mission or lose: www.b-music.co.uk.
---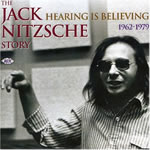 V/A - Jack Nitzsche: Hearing is Believing (Ace)
The late Jack Nitzsche was a producer, arranger, musician, film composer, raconteur, stylist, innovator and a self-styled musical genius. Ace celebrates his legacy with this chronological collection of songs he had a hand in, taking away the wall of sound and endless reverb he brought to Phil Spector's Philles label productions and applying them to one of the wildest assortments of pop songs ever collected. Everyone from Lesley Gore to Stevie Wonder, Bobby Vinton to Graham Parker had their songs and voices transformed into perfect pop nirvana in Nitzsche's capable hands.
---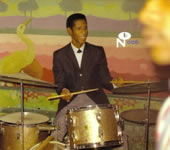 V/A - Cult Cargo: Belize City Boil Up (Numero Group)
A beyond-amazing compilation from a label that specializes in amazement. A virtually unheard-in-the-US brace of records from the CES label in Belize, discovered in a Brooklyn basement and compiled here for your pleasure. Heretofore undiscovered Central American takes on American soul, jazz and fun that are unlike anything else around.
---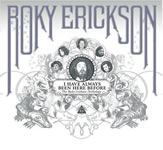 Roky Erickson - I Have Always Been Here Before (Shout! Factory)
Probably the finest collection of Roky's material ever released, this two-disc collection spans his entire career, from the 13th Floor Elevators' supremely monged garage psych drug wailing to lost wavo abrasiveness with the Aliens to heartrending solo material from the '90s. If you were ever curious, start here. If you're already a fan, this is a great way to get a large chunk of Roky in one place. Either way, we all win.
---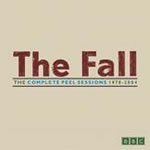 The Fall - The Complete Peel Sessions 1978-2004 (Sanctuary)
Christmas came early for Fall fanatics with this staggering, 6-CD collection of every note the band recorded for the late John Peel's BBC radio programme. Stripped of studio sheen (or given some, in many cases), these live recordings chronicle most of the Fall's many lineups and sounds, and is a fantastic way to chart Mark E. Smith's lifeswork in progressive steps, with production at a welcome constant. A band that sounds just as visceral and vital in 2004 as it did when it started is a hard proposition to believe, but it's done here.
Other worthwhile accomplishments on the reissue front:
Orange Juice - The Glasgow School (Domino)
Gary Higgins - Red Hash (Drag City)
George Brigman - Jungle Rot (Anopheles)
Link Wray - Wray's Three-Track Shack (Arcadia)
Free America/Universal jazz import reissue series, in particular Paul Bley's Improvisie and Clifford Thornton's The Panther and the Lash
---
Slammin' Singles:
Amerie - "1 Thing" (Columbia)
Three 6 Mafia - "Stay Fly" (whatever label these bozos are on)
Black Mountain - "Druganaut (extended version)" (Jagjaguwar)
Map of Africa - "Black Skin Blue Eyed Boys" (Whatever We Want)
Love Is All - "Used Goods"/"Motorboat Fowley" 7" (What's Your Rupture?)
The Long Blondes - "Giddy Stratospheres" (What's Your Rupture?)
Popular Shapes - "B-Ball Music Song 2" b/w - "B-Ball Music Song 4" 7" (White Denim/Hate the Eighties)
The Intelligence - "Dating Cops" (from split 7" w/ Coachwhips) (Omnibus)
Fireball - "The Arsonist" (High Roller Society)
Curse of the Birthmark - "Alibis" (333 Recordings)
Parts & Labor - "A Great Divide" (Plastic Records)
Sightings - "Castle Moat" (Fusetron)
Career Suicide - "Bored Bored Bored" (Feral Ward)
Todd - "Black Skull" (Riot Season)
Major Stars - "Black Road" b/w - "Pocket" (Twisted Village)
Paul Kalkbrenner - "Gebrunn Gebrunn" (BPitch Control)
Plastic Crimewave Sound - "End of Cloud" (from split 12" w/ Oneida) (Brah)
A Frames - "Traction" (S-S)
Voxtrot - "Raised By Wolves" (Magic Marker)
Warzone Womyn - "Magma Digestor" and "Drug Mule" (from split 12" w/ the Endless Blockade) (Out of Limits)
Times New Viking - "Busy Making Love + War" 7" (Columbus Discount)
---
Live Shows That Punished
1. Boredoms, Bowery Ballroom, 5/28/2005
2. Yura Yura Teikoku, Tonic, 10/11/2005.
3. DMBQ, Club Exit, March 2005.
4. Dungen, Maxwell's, 7/14/2005.
5. Plush, Tonic, 12/8/2005.
6. Oneida/the Apes/Dirty Faces/Man vs. Beast, Eclectic House, Wesleyan University,
2/26/2005.
7. Cursed, Northsix basement and CBGB, March and July 2005.
8. Iron Lung, Northsix basement, June 2005.
9. Constantines/Oxford Collapse, four times this year.
10. The Mae-Shi, Northsix, November 2005.

Live notables:
- Bauhaus, Nokia Theater, 11/11/2005
- Terry Reid (most awful yet watchable performance maybe ever), BB King's, April 2005
- Heathen Shame, No Fun Fest, the Hook, April 2005
- Wolfmother, Crash Mansion, March 2005
- Fireball/Midnight O'Connor, Rubulad, February 2005
- Jamie Lidell, Rothko, October 2005
- High on Fire, Bowery Ballroom, February 2005

By Doug Mosurock