Dusted Features

Dusted's Matthew Wuethrich looks back at the year in music.



Little Ecstasies of 2005 (Matthew Wuethrich)
All we need is here on Earth, Bill Callahan reminds us on A River Ain't Too Much to Love, about every other day. Whether he's speaking half-full or half-empty depends on the day, depends on the weather. Here's a list in no particular order of some music from 2005 that made the glass half-full.

1. Smog - A River Ain't Too Much to Love / Bonnie 'Prince' Billy + Matt Sweeney - Superwolf / Six Organs of Admittance - School of the Flower (Drag City)
A Drag City trifecta. All three LPs present very different visions of how a song can burrow its way into your life. Will Oldham and Matt Sweeney bait and switch by kicking off with the anthemic "My Home is the Sea", then plunging into intimate discomfort, laying out songs full of narrative and musical loose ends. Ben Chasny couldn't decide if he wanted to pick, drone or sing, so he does all three on School of the Flower. Hearing the monolithic title track switch over to Gary Higgins' "Thicker than a Smokey" is the musical pressure drop on record of 2005. Finally, Bill Callahan hasn't lost his sense of wonder in the simple things, and his Drag City LP captures the wonderful with the simple. Callahan has the ability, the one Greil Marcus attributed to singers like Bob Dylan and Dock Boggs, to "talk weather": to hide universes in the speech of the everyday.
---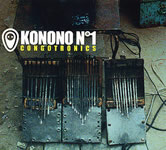 2. Konono No 1 - Congotronics (Crammed)
The music of this Congolese group has inspired a storm of interpretations and critical rhetoric: handmade electronic psychedelia; a collision of urban technology and rural tradition; a product of social strife, war and poverty and a musical state founded to resist those forces. It's all those things, but beyond them, too. This music shreds verbal binds with its ecstatic tangle of mutated electricity, buzzing percussion, unstable pulse and choruses of majestic, joy-bringing voices.
---
3. High on Fire - Blessed Black Wings (Relapse)
Some suggest this is the metal gateway drug of 2005. Whatever. Once Pike's monstrous hooks claw their way in and Des Kensel's drums bring the divine thunder, you won't be able to go anywhere else, so seductive is the trio's grind and groove.
---
4.Tuomari Nurmio and Alamaailman Vasarat - Kinaporin kalifaatti (Pyramid)
Translated on paper, the name Judge Nurmio and the Hammers of the Underworld sounds like a cartoon metal band. Captured on tape, this collaboration between Nurmio, a veteran Finnish singer-songwriter, and the Vasarat, a horn-driven ensemble of polymaths that draw on the brass band music of Eastern Europe and the Balkans, as well as klezmer and free jazz, sounds like a medieval bazaar. Nurmio's voice, sandpapered then salved in scotch, travels the distance from Blind Willie Johnson to tuvan throat singing in the space of a bar. The Vasarat add sour brass blasts and bustling hand percussion while doubled cellos pick out nimble bass lines. Nurmio's songs speak often of love, but its a messy, many-sided love. It is a commodity to be bought and sold, a force that possesses, destroys, then burns out. In other words, love that turns you inside out, just like this record.
---
5. Keith Rowe/Sachiko M/Otomo Yoshihide/Toshimaru Nakamura -ErstLive 005 (Erstwhile)
Close to four hours of improvising at the edges of music, where terms like noise, minimalism, ambient, and improv all shed their meaning. This recording tests one's endurance, but rewards patience.
---
6.Tivol - Early Teeth (Holy Mountain), Julie Mittens - s/t (self-released)
Two records of overdriven guitar, bustling and seething rhythms and torrents of beautiful noise. If these don't burn new pathways in your synapses, then nothing will.
---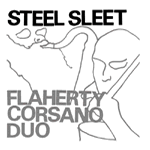 7. Flaherty/Corsano Duo - Last Eyes (Records), Steel Sleet (Tyyfus)
The dialogue between saxophonist Paul Flaherty and drummer Chris Corsano flows so effusively and generates so much energy, one imagines the pair could converse endlessly.
---
8. Jack Rose
Rose made everything he touched this year gleam. From Kensington Blues to his stunning contributions for By the Fruits You Shall Know the Roots and his work Pelt, Rose vibrates parts of the imagination and the heart that nothing else can find.
---
9. New Thing! - various artists (Soul Jazz)
The overly broad historical revisionism of this collection is what makes it work. It stretches from Sun Ra in the late 50s to the Art Ensemble of Chicago of the early 80s, but what Soul Jazz uses to connect the two are the real finds: the East New York Ensemble, Maluwi, Hannibal & the Sunrise Orchestra and more. Rather than bury the past in tribute, New Thing inspires more digging.

By Matthew Wuethrich