Dusted Features

Dusted's Derek Taylor looks back at the year in jazz.



O.D.'ing on Auld Lang Syne (Derek Taylor)
Thank Yaweh for the longevity and general durability of compact disc technology. The discs below are ones that, had they been constructed of vinyl, would have been consigned to the trash bin due to the condition of fully eroded grooves. Most didn't leave my antiquated Sansui-Nakamichi deck for days on end and all brought me euphoric degrees of pleasure when the personal and professional parts of my life proved stressfully problematic this year. But that's enough of a pusillanimous preamble. Please join me in pouring a few fingers of celebratory Maker's Mark and let's pull the curtain back on some sounds.
---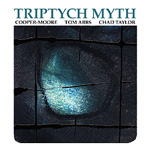 Steven Joerg's AUM Fidelity has been a bellwether for New York-based free jazz for the better part of a decade. But even with that stellar ledger of excellence in place Triptych Myth's The Beautiful registers as a revelation. The trio's sophomore record (following an auspicious debut on Hopscotch) is what I have no qualms calling a perfect new millennial piano trio album, redolent with what is probably Cooper-Moore's finest, most focused playing to date. Misha Mengelberg's Senne Sing Song and Sal Mosca's Thing-ah-Majig are two other piano-centered projects that speak emphatically to the schematic's strengths. On the former disc the eccentric, camel-backed Dutchman conscripts a New York-based rhythm section for a survey of his own compositions past and present, including a rollicking version of the seasonally-apposite "HypoXmasTreeFuzz." On the latter, the aging Tristano equal guides his working trio with gently deployed genius through a recital made up mainly of subtly-retooled standards.
---
Another accomplished ivory hunter, Alexander von Schlippenbach safaried the biggest, most formidable game this year. His Monk's Casino box attempts the audacious feat of covering the composer's songbook, "Bemsha Swing" through "Who Knows", in just over three hours on three discs and succeeds. Abetting him the feat is a crack band of Euro-improvisers that includes Alex Dörner and Rudi Mahall as an appropriately quixotic frontline. There's a concert bootleg of the program circulating around that certain critics consider superior. My loyalties still lie with this better recorded and annotated legit studio version.
---
Under the helm of impresario Bob Rusch the Cadence family of labels have long served as stewarding stations for new creative music talent. Bassist/composer/Mingus reincarnation Adam Lane has been operating in that orbit for several years, mainly through a string of releases on CIMP that team him with the likes of John Tchicai, Barry Altschul and Kalaprusha Maurice McIntyre. All are worth hearing, but the one that really stands out for me is this year's Zero Degree Music, his trio project with Vinny Golia. Together with relative new face Vijay Anderson on drums they breathe ferocious new life into the instrumental template pioneered by Sonny Rollins, attacking a program of Lane's deceptively meaty compositions like a pride of cunning lions. Saxophonist Don Menza has been in the game decades longer than Lane, but Jack Rabbitt, a much-merited shot on the CIMP sister label Cadence Jazz in the company of organist Bobby Jones and drummer John Bacon, brings his mile-wide talent into welcome prominence. The record references classic soul jazz tropes without sounding trite or derivative and what matters most, after all, is that these three guys play there arses off.
---
Rusch also had a sizeable hand last year in helping saxophonist James Finn into his current position of continuously-accruing accolades. Rather than rest on the proliferating laurels and recognizing the establishment's inability to keep up with his fecundity, Finn christened his own imprint, Ginko Leaf, and commenced self-releasing a stream of CDRs. At year's end the label's catalog stands at six titles. All have their charms, but the gleaming sapphire among precious stones is Live at the Via Della Pace, a concert taped in the basement performance space beneath a Italian restaurant in Brooklyn. Finn, in the company of drummers Warren Smith and Newman Taylor Baker, rattles the floorboards above with a glorious seraphic racket and the set culminates with the cops pulling the proverbial plug on the gig.
---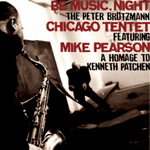 Veteran reed-splitter Peter Brötzmann reined in his usual prolific tendencies, releasing only a handful of discs. The modest cache included another entry by the flagship outfit that continually beats the odds of economic infeasibility, the mighty Brötzmann Tentet. Be Music, Night on Okkadisk meshes the words of proto-Beat poet Kenneth Patchen with the improvised accompaniment of the slightly revamped band: Norwegian drummer Paal Nilssen-Love taking the place of the perennially over-booked Hamid Drake in the ranks. Atavistic's long-awaited reissue of Schawarzwaldfahrt, Brötzmann's 1977 road trip into the wilds of the Black Forest with Han Bennink in search of found sounds, added an entire hour's worth of unissued material to the package. Hearing Herrs Brötz and Han commune convivially with the nature spirits the serious concept of environment as instrument comes into bold relief, but not at the expense of the jocular absurdity that also informs their various conversations.
---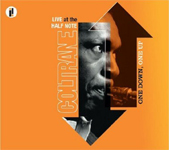 '05 was also a banner year for previously unreleased archival discoveries, yielding not just one, but three Rosetta-ranking recordings culled from repositories as diverse as tape vaults and closets. Dizzy Gillespie & Charlie Parker's Town Hall disc on the tiny Uptown imprint offers an unprecedented vinyl-sized snapshot of the two Bop forefathers plying their new art form in concert with a blue chip supporting cast of Al Haig, Curley Russell and Max Roach; guests Don Byas and Big Sid Catlettt added even more value to an already priceless find. Thelonious Monk and John Coltrane's I>Carnegie Hall disc on Blue Note accomplishes a comparable feat, bringing forth a prime professionally taped example of a band whose live recorded legacy previously registered next to nil. Lastly, but by no means leastly, Coltrane's One Up, One Down, taped live at the Half Note in 1965, cleans up a seminal date by the saxophonist that's been circulating in boot tape circles for years. Trane's epochal and exhaustive tenor solo on the title cut relegates pretty much every other bearer of the horn, past and present, to position of subordinance when it comes to extended and sustained improvisation. And on the strict reissue front, Verve returned Gillespie's thrill-a-minute Sittin' In to print, a dream blowing session convening the tenors of Stan Getz, Coleman Hawkins and Paul Gonsalves with a Wynton Kelly-led rhythm section on four tunes that allow plenty of competitive stretching. It's as incandescent a meeting as the roll call on paper would leave most to conjecture.
---
While labels like Verve, Columbia and Blue Note continued their admirable jazz reissue efforts the other big news and boon this year was Universal France's Free America series. With little advance warning the company unveiled 15 vintage titles from the legendary BYG-sister label, remastered and repackaged in deluxe tri-fold digipacks and produced in a pressing limited to 5000 copies apiece. Several weeks later the line hit U.S. shores with a more affordable sticker price, but with numbers significantly winnowed. All are worth hearing, but my personal picks of the litter are Clifford Thornton's The Panther and the Lash and Frank Wright's Uhuru Na Umoja, the former album standing easily on par with any other release I heard this year.
---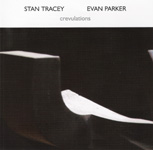 Turning attention to European, and specifically U.K., jazz and improv, the Emanem and Psi imprints, under the stewardship of the stalwart Martin Davidson continued to set the bar. Stan Tracey and Evan Parker's Crevulations delivers a second dose of the duo's brooding chamber-style interplay. Far from the oil and water amalgam their disparate backgrounds might imply, each man colors the other's seemingly contrastive approach to reveal an underlying uncanny rapport. The fraternal labels also produced a pair of top-flight reissues: John Stevens' New Cool and the long-awaited return of Derek Bailey and Parker's The London Concert, each generously-loaded extra material and together representing the breadth of British improv.
---
Early summer signaled the re-launch of formerly-hibernating Eremite label on the thrust of three releases. Fred Anderson's Blue Winter delivers an overdue double-disc helping of the Chicago saxophonist's trio with the platinum standard rhythm pairing of William Parker and Hamid Drake. Far removed from a rote exercise of long-standing peers, the set finds Anderson testing and extending the parameters of his signature style and features some of his most tonally-adventurous playing to date. Perles Noires presents a two-volume tour diary of expat drummer Sunny Murray's stateside travels. The separately-released discs, each generously packed to near capacity, document different dates by the core duo of Murray and multi-reedist Sabir Mateen. Along the way various prestigious guests join them on stage including Dave Burrell, Oluyemi Thomas, Alan Silva and Louie Belogenis for conclaves that vary from stellar to downright odd. Above all what comes across is Murray's undiminished readiness to play with all-comers, his radical percussive method somewhat mellowed, but far from tamed.
---
I would feel like a heel if I didn't touch on a few non-jazz titles on this predictably jazz-centric list. The Heartless Bastards fulfilled my Fat Possum quota, further signaling the label's shift from Hill Country Blues custodians to purveyors of Stooges-influenced garage rock. The Ohio-based threesome's brand of stomping guitar crunch and simple head-bobbing hooks are even better live than on their debut Stairs and Elevators. Their near-ceaseless tour schedule (110+ gigs) brought the sounds to the people on a scale-of-magnitude few bands could match. Returning to the reissue front for sounds without which the Bastards existence might not have come to pass, I strongly advise everyone reading this to drop change on Ace's Modern Downhome Blues Sessions, Vol. 4: Southern Country Blues Guitarists 1948-52. Originally slated as three volumes, the series thankfully now has an air of indefinite parameters. This fourth entry encompasses another jukebox-sized compendium of over-amplified, grain alcohol-driven attitude by some of the more obscure guitar-abusers of the idiom. Lastly, as I could easily ramble on for another couple thousand words, allow me to recommend Hobart Smith's The Sacred Trust: The 1963 Fleming Brown Tapes. The Smithsonian/Folkways collection complements the previous Lomax Portrait disc on Rounder released back in '01 and exceeds the label's usual high scholarly standards. Smith was of the same high lonesome stripe as leather-faced Appalachians like Roscoe Holcomb and Clarence Ashley, but his work has long suffered in comparative obscurity. 36 tracks feature him on breakneck banjo, guitar, fiddle, piano, hell, there's even a clog-dancing tune or two, and an 80-page booklet breaks down all the details. Go out and get yourself a copy! And here's wishing you & yours the best in '06.
By Derek Taylor