Dusted Features

Dusted's Rob Hatch-Miller looks back at the year in music.



2005 in Review (Rob Hatch-Miller)
A lot of bad things happened in 2005. George W. Bush was inaugurated for another horrible term and got to pick two new Supreme Court justices. New Orleans and several countries in Southeast Asia were nearly wiped off the face of the planet. Hunter S. Thompson shot himself in the face. I could go on and on, but I don't want to be too negative. Luckily there was some great music to help us all cope. Here are ten things that eased the pain for me.
---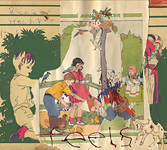 Animal Collective – Feels (Fat Cat)
Just like last year, my favorite new record was by Animal Collective. After the mostly acoustic Sung Tongs, it was great to hear the band return to something that sounded closer to their debut Spirit They're Gone, Spirit They've Vanished, only with much clearer production that brought out the influence of Mercury Rev circa Yerself Is Steam. Their Prospect Hummer EP with Vashti Bunyan was also one of the year's best releases.
---
No Direction Home: Bob Dylan
I know some other big Dylan fans who weren't too thrilled with Martin Scorsese's documentary, and a lot who complained that it didn't delve at all into his later work (especially the Rolling Thunder Revue tour), but I thought that No Direction Home was focused and exciting and reminded me just how much I love the man's music. I don't think I've ever seen a better documentary about a musician, and it was really wonderful to share the experience of watching the movie with millions of other people when it aired. All that week I heard Bob Dylan songs everywhere and I had in-depth conversations about the program with almost all of my closest friends.
---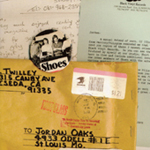 Various Artists – Yellow Pills: Prefill (Numero Group)
This compilation of power pop songs from the late 70s and early 80s has been in constant rotation for the better part of the year. I knew before I even opened it that I would love it. At this point I'm confident that I can buy anything released by the Numero Group without hearing it first or reading any reviews and I'll never be disappointed.
---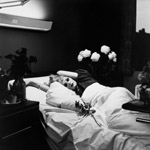 Antony & The Johnsons– I Am A Bird Now (Secretly Canadian)
What's left to say about this album? It's totally unique and beautiful and deserves every ounce of the accolade's that it's received.
---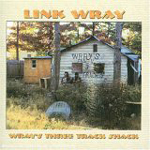 Link Wray – Wray's Three Track Shack (Acadia)
Before this year I'd failed to pick up a copy of Link Wray's 1971 self-titled Polydor album at least twice. I must've been crazy. A friend insisted that I buy this two-disc collection, which features that album in addition to two others from the same time period. All of the songs were recorded in a bare-bones studio that Link built inside of an old chicken coop on his farm. The music is completely different from his earlier guitar instrumentals; it sounds something like the Band or early 70s Rolling Stones, and it rules. Sadly, Link Wray passed away shortly after the CD's release.
---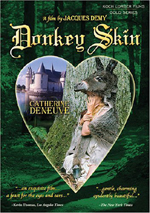 Donkey Skin
A restored print of French New Wave filmmaker Jacques Demy's 1970 musical played at Film Forum in New York City for the last week of 2004 and the first few days of 2005 and was also released on DVD by Koch Lorber this year. Like his The Umbrellas Of Cherbourg, the movie stars Catherine Deneuve and features an incredible soundtrack by Michel Legrande. Donkey Skin, a fairy tale about a princess who has to fend off her recently widowed father's incestuous advances, is far more absurd and whimsical than the earlier film and is full of delightful anachronisms such as wedding guests arriving in a helicopter.
---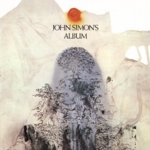 John Simon – John Simon's Album (Water)
Like the Numero Group, Water pretty much only reissues things that are ridiculously good. This album by the producer of the Band's first two albums is among the best that they've released so far. It reminds me of Harry Nilsson and Van Dyke Parks. This label also reissued Judee Sill's long lost third album Dreams Come True in 2005, which was a pretty major revelation.
---
Evie Sands – Any Way That You Want Me (Rev-Ola)
From Rev-Ola's series of A&M reissues, this 1969 album by white soul singer Evie Sands was a complete surprise to me. It truly is almost as good as Dusty In Memphis. Rev-Ola reissued another great A&M album this year, the self-titled debut of Emitt Rhodes' band the Merry-Go-Round. That's one of my all-time favorite LPs but since I'd never heard the Evie Sands album before it was in my CD player a lot more often.
---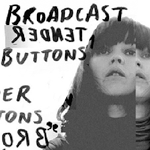 Broadcast – Tender Buttons (Warp)
Recording as a duo, Trish Keenan and James Cargill made a more stark and stripped down album than 2003's Haha Sound. At first I thought that was a bad thing, but I quickly changed my mind.
---
Pep La Guarda & Tapineria – Brossa d'Ahir (Discmedi)
This album was technically reissued in 2004, but imports didn't start showing up in American shops until this year. Brossa a'Ahir is an ethereal and serene Spanish psychedelic folk record from 1976, produced by Daevid Allen of Gong and featuring the incredible guitar playing of Pau Riba.
---
Since there were so many other great records out this year, here are some runners-up. Consider them honorable mentions.
Mountains – Mountains (Apestaartje)
Nils Okland – Bris (Rune Grammofon)
Tape – Rideau (Hapna)
Gary Higgins – Red Hash (Drag City)
Appaloosa – Appaloosa (Collectors' Choice)
Unicorn – Uphill All The Way (Breathless)
Classical M – Bad Guys: The Complete Collection (Lion Productions)
Jean-Claude Vannier – L'Enfant Assassin Des Mouches (Finders Keepers)
Marc Brierley – Autograph Of Time: The Complete Recordings 1966-1970 (Castle)
Various Artists – Never The Same: Leave-Taking From The British Folk Revival 1970-1977 (Honest Jons)
Richard Hawley – Coles Corner (XL)
Satwa – Satwa (Time-Lag)
Judy Henske & Jerry Yester – Farewell Aldebaran (Radioactive)
Jack Rose - Kensingon Blues (VHF)
Milk 'N' Cookies – Milk 'N' Cookies (RPM)
Skygreen Leopards - Life & Love In Sparrow's Meadow (Jagjaguwar)
Alva Noto + Ryuichi Sakamoto - Insen (Asphodel)
By Rob Hatch-Miller