Dusted Features

Josie Clowney lists 10 things that made her smile in 2006.



The New Sincerity (Josie Clowney)
These 10 musical bits and pieces made me joyful this year.
---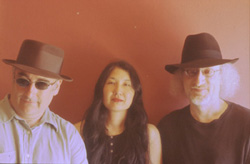 1. Maybe Monday at The Stone (November 19)
The legendary trio, Fred Frith on guitar, Miya Masaoka on koto, and Larry Ochs on sax played six sets at The Stone in mid-November; for the set I saw, they were joined by drummer Gerry Hemingway. I have never seen a group improvise so well together. Frith made use of techniques that would have been gimmicky in the hands of a lesser musician, placing brass pots on top of his guitar strings and resonating them with an e-bow and playing through cloth placed over the strings. Hemingway, mesmerizing to watch, looked like a sleepy zombie. Ochs and Masaoka provided a lot of the melody, matching one another in timbre. Masaoka always transitioned to a new mode of playing before one had gotten enough of the first one. I think I will judge years of performances in reference to this one.
---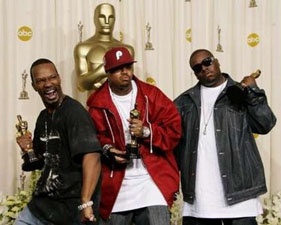 2. Three 6 Mafia win an Oscar
I have a crush on Juicy J, and he looked amazing in his tailored Oscar-night suit. Hustle and Flow wasn't very good, nor was "It's Hard out there for a Pimp," the song they won for, but the winning of the Oscar and the heady mainstream excitement about the group that followed were delightful. It was all metonymized in that costume change, from cartoon thug cliché during the live performance to Wall Street tailored elegance for the acceptance speech. I kept the flame alive by listening to La' Chat's "Salt Shaker" more than any other song this year.
---


3. Elvy Sukaesih - The Dangdut Queen (Rice Records)
This Rice Records compilation of the Indonesian dangdut star's greatest hits sustained me this year. Elvy's songs are intensely local, in that they so headily conjure the tropics, and yet they draw one in through the international language of pop stardom. I keep hoping that Rice or other labels will package more Third World pop stars for my enjoyment, but thus far no one has been forthcoming.
---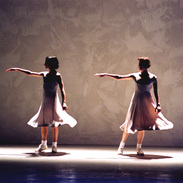 4. Anne Teresa de Keersmaeker's Fase, Four Movements to the Music of Steve Reich at BAM (October 3rd)
Various New York venues teamed up this fall to fete Steve Reich on the occasion of his 70th birthday; he looks an elfin 45. BAM (the Brooklyn Academy of Music) kicked off the festivities with a night of dances set to his compositions. As Rosas, Anne Teresa de Keersmaeker danced Fase, Four Movements to the Music of Steve Reich, which she choreographed in 1982. Three of the four pieces were duets with Tale Dolven, and in each the dancers gave form to Reich's compositions. The two danced side-by-side to Violin Fase in dusky light and white nightgowns. Their shadows clasped hands as each turned jerkily in unison with differently phased lines of the music. For Come Out, they sat in chairs and did the Robot, lit up by stark bare bulbs overhead. The level of abstraction possible in dance often shocks me, and Reich and de Keersmaeker were perfectly matched in this respect. There was music, and form, and it was pure.
---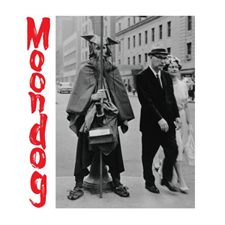 5. Moondog Madness
Honest Jon's (a.k.a. Astralwerks) Moondog reissue, Viking of 6th Avenue, kicked off a flurry of interest and other reissues. Suffice it to say I had never heard of Moondog prior to 2006 and now he is my favorite. While some argue that Moondog's instrumental compositions have stood the test of time better than his dated singing, I am particularly partial to tracks like "Pigmy Pig" ("Pigmy elk how big you are / Big as pigmy bear") and "Human Rights" ("Enough about human rights / What about whale rights / What about snail rights") because Moondog's personality sparkles through them.
---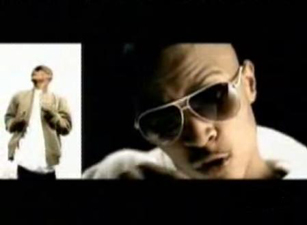 6. T.I. "What Your Know" from King
I'm a sucker for each year's Big Summer Jam; this year it was "What You Know," and hundreds of plays later it still sounds good. T.I.'s flow is sloppy and hardly rhythmic, but the kid has heart (in the Captain Planet sense), as evidenced by his lovable performance in ATL. DJ Toomp and Wonder's incredible production is the main event – nothing in '06 topped the interplay between the thick "Hey Joe" bass line and that catchy keyboard trill.
---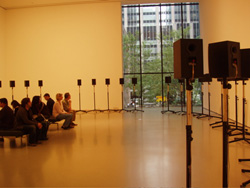 7. Janet Cardiff's 40-Part Motet "live" at MOMA
Sound artist Cardiff is best known for her audio "walks," site specific pieces that are meant to be listened to on headphones while walking a particular path. Cardiff talks in one's ear about dangers lurking behind particular bushes in, say, Central Park while admonishing you to keep up with her. 40-Part Motet is her reworking of Thomas Tallis's Spem in Alium, a 16th century choral piece. Cardiff recorded each of the 40 vocal parts individually and in the gallery each is played through a separate speaker. Listened to this way, the music is three-dimensional and like all of Cardiff's work, it made me more aware of the position of my body in space. Museum visitors gravitated toward the piece, wandering in and out of the speakers.
---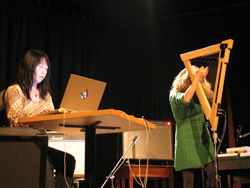 8. No Fun Fest '06
Stock indeed, and totally awesome. No Fun Fest '06 took place in deepest darkest Red Hook, Brooklyn, reached by an apocalyptic trek over the Brooklyn-Queens Expressway. The combination of musical prowess and stage presence of many of the solo acts dominated the weekend. As Can't, Jessica Rylan fed her voice through effects to yield a charming, gritty mess. She wandered around the stage as she performed, half dancing and smirking at herself. John Wiese stood stock still, prim in a button-up shirt and sweater, while vibrating the body cavities of the crowd with low tones and bursts. Daniel Menche strode across the stage and climbed the rafters while shouting into his microphone, and Aaron Dilloway enlisted Wolf Eyes and C. Spencer Yeh as back-up ghouls. Costumed acts like Bloodyminded and Chronicles of Lemur Mutation were hilarious. But best of all were Zeena Parkins and Ikue Mori. I saw each of them perform multiple times this year, and while they both do fine collaborations with other musicians, their interaction with one another is transcendent.
---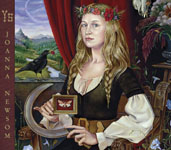 9. Joanna Newsom - Ys
Newsom's songwriting is so good that it holds up under the weight of Van Dyke Parks's Broadwayfication. She inflects her storytelling by using frequent key and tempo changes as she did on The Milk-Eyed Mender while drawing the songs out in length by increasing their structural complexity. Her duet with Bill Callahan on "Only Skin" seems the best expression of indie love since Cat Power covered Callahan's "Bathysphere."
---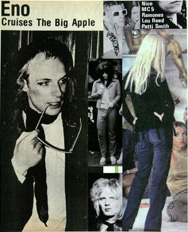 10. Music is a Better Noise at PS1
This exhibit of art by musicians felt like what would happen if the PS1 curators allowed a group of randomly chosen, non-famous "creative types" to display whatever they could come up with at their kitchen tables. While the fame of the participants lent the proceedings a somewhat fatuous air, I put a lot of value in learning that Kim Gordon makes noir, abstract, glitter-on-construction-paper art, that her husband makes rock star collages, and that both are terrible. Christian Marclay's imaginary record covers, on the other hand, are quite good.


By Josie Clowney