Dusted Features

Doug Mosurak and the Pittsburgh Steelers had a lot in common in 2006.



A Rebuilding Year (Doug Mosurak)
2006 was a very busy year for me, less so for music. It took some work to determine which releases could actually stand the test of the year, much less a month, or even one spin. I wrote more about music – and more types of music – than in any other year of my life. In most cases, they reminded me of things I had grown to love over the years, innovation be damned. Like with the Steelers, it seems that it was a rebuilding year, with the champions relying on what had got them through in the past, with little room for innovation and wonder. All the same, it went down, and a lot of good came through.
To that end, thank you to all who have supported my endeavors, in particular everyone who's submitted material for Still Single and the albums column, which are writing experience akin to John Henry laying track against the machine.
Speaking of hard work, here's the rundown.
Top 10 Albums of 2006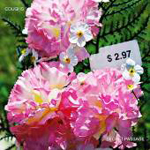 10. Coughs - Secret Passage (Load)
Chicago outfit came correct on their second and supposedly final effort, a maddeningly difficult and outwardly aggressive mélange of confusion, chaos, and fear. Two drummers, thickly snarling guitars, synths, sax and hoarse female vocals (which, sadly, remind me of Spitboy) brought Secret Passage off as if The Ex had been dissected by the Butthole Surfers and had alien organs sewn back up into their collective bodies. Any doubters should check their song "Life of Acne," one of only a select few genuine nightmares on wax for the year. A very challenging listen, hostile and overflowing with venom, and one of the best Load releases ever.
---


9. Jarvis Cocker - Jarvis (Rough Trade)
Wherein a very talented man embraces himself and the events that have led him to lead the life that he does. Songs about everyday life in as clear and direct a manner as possible. Really got hold of that "Crimson & Clover" sample, too. Balancing the serious, the romantic, and the sarcastic into one mature and confident bundle, Cocker reminds us who's the real raconteur for the calendar year.
---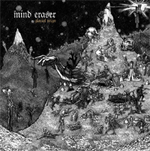 8. Mind Eraser - Glacial Reign (Painkiller)
Boston kids graduating from hawdcoah into something all but forgotten: a resurgence of West Coast powerviolence sounds, refitted with death metal riffage and an avalanche of terror to go along with it. Works as well in 30 second blasts as it does in its interminable, crushing side-ending slowness. Many ideas are tried, and many work, but in a year such as this, it was more important that they were tried at all, especially in a micro-genre where it seems more appropriate to try and recreate a time and place rather than build anything new out of the resurrected eras of punk and metal gone by. They should be applauded for taking the high road. You should mosh poseurs into the floor.
---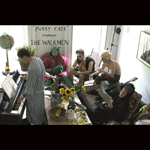 7. The Walkmen - A Hundred Miles Off / Plays "Pussy Cats" (Record Collection)
One of modern rock's most divisive groups, the Walkmen leap far beyond their overreaching debut, and strong but uneven Bows + Arrows, to deliver a near-perfect album, straining and raucous but keeping strong ties to old-timey racket, death rock, even hardcore, intact. The middle section of A Hundred Miles Off contains some of the most blasted-out, white-knuckled treble thrash intensity since the Rock*a*Teens hung it up, and yet they never lose touch of the haunted, jangling songs that root this whole shebang down. Lots of people lazily compared Hamilton Leithauser's voice to Dylan instead of Bono this time. He sounds like himself, and you can hold your ears all you want, as he's busting lungs like no one else out there right now. Few existing bands have their presence and authority, their demeanor is flattering and respectable (reminds me of Jarvis Cocker in a very American, loutish way, which I can dig, plus they submitted one of the best Listeds to Dusted, ever) and fewer still could exhibit such ownership with a traditionally difficult source material as Nilsson and Lennon's nadir Pussy Cats, covered and released in its entirety as the band's Marcata Studios fell down around them. Like all the antiques coming to life and trapping you inside the store. Haters need to maybe stick their heads in toilets and flush.
---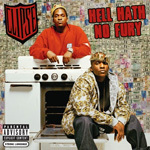 6. Clipse - Hell Hath No Fury (Re-Up Gang/Jive/Zomba)
I listen to this and feel like my spine is freezing. No hip-hop has done that in a while. Neptunes lean on grime for production influence, and make things even colder.
---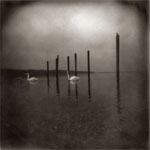 5. Om - Conference of the Birds (Holy Mountain)
Leavening, intertwined duets from the simplest of lineups. Meditative yet progressive, I've tuned in time and again and found new and exciting things within to discover. Live, they were even more imposing, slowly filling the room with hot mud. Exceptional and beyond simple classifiers like "psychedelic" and "heavy" and "stoned," this is that thinking man's metal that up until now has not really been worth listening to.
---


4. Zao - The Fear Is What Keeps Us Here (Ferret)
In the new metal pantheon, Botch's We Are the Romans and Converge's Jane Doe set the pace for many imitators over the years. To that end, we see annual competitors for the Band to Make This Album Again. Even Converge made the effort again themselves this year; however, nobody but Zao have come this close on this latest effort. With Conelrad's Jeff Gretz in the drum chair, Zao has whipped itself out of Christian metaldom into some sort of nondenominational monster that understands Satan being a big part of the Bible, too. More metal than any of their compatriots, impeccably raw, and with massive studio work by Steve Albini, you will mark my words that this one will become a benchmark for the sound in years to come.
---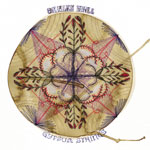 3. Oakley Hall - Gypsum Strings (Brah/Jagjaguwar)
Brooklyn roots-rock outfit comes into its own, after two albums of increasing quality. Large-ensemble, bashed-out rocking, here met by contemplative, Eastern-tinged tracks. Each song resonates with the blues of hard work, suffering, and regret, of agitation and the small moments of sweet release that we're all rewarded from time to time. Country sounds have been leveraged with a deep understanding of psychedelia, raga, and Southern rock that comes to a head on "If I Was in El Dorado," beating even Giant Sand at their own game. As great as this record is, they are unstoppable live, and show no signs of receding into anonymity.
---


2. Harvey Milk - Special Wishes (Mega Blade) / Anthem DVD (Chunklet)
Inexplicably, one of the '90s finest heavy rock bands returns right where they left off, constructing an album of power ballads about love, war, aging, and loss. Creston Spiers sounds like he's spent the past eight years gargling a gravel pit, and though original drummer Paul Trudeau is back in the chair (replacing stick-twirling hotshot Kyle Spence, who, regardless, had a hand in bringing this album together), the uniqueness of their sound, rasping and yet monolithic in scope, returns full-bore. Only a select few can revisit how the band progressed via the limited-edition Anthem DVD, which compiles four hours or so of live performance footage – largely to no one, in Athens and Atlanta, GA – as the band mutated from heavy/eerie AmRep style damage, to Swans-style nihilism (complete with anvil and sledgehammer), to Led Zep/ZZ Top reverent boogie. Take it all in.
---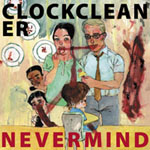 1. Clockcleaner - Nevermind (Reptilian)
Nevermind is the contusion that won't heal, an incredibly taut, distressed, vitriolic punch in the face from the first drum hit to its strangulated closing tribute to Tuxedomoon. Inside you'll find every good moment from ugly, bare-assed '80s fringe-dwelling psychopaths (Bobby Soxx, No Trend, GG Allin) to their '90s cock-rock counterparts (Nirvana, Cherubs ca. Heroin Man, Harry Pussy, Six Finger Satellite) shoved into a roman candle and fired point blank at your eyes. It's funny that such sounds come from people so young, but it makes sense – those who remember the bands that they take influence from on this album don't have it in them to repeat the era with such conviction. There is simply no other way for this band to operate, except in nihilistic, expulsive, negative terms that are just now being harnessed into something more potent than had existed in the past. I've seen this band numerous times this year and each show has caused me more and more concern, as if it were a danger even being near the venue where they played. Their concert with Municipal Waste and Annihilation Time, in which an employee of Northsix vacated the soundboard during their set, and was summarily punched out for his disregard, was one such example. They play with as much thought for audience safety as the label who released this had with respect to actually getting it into stores, so at least things are on the same page. Calculated, threatening, sickening, and violent, leaving a trail of blood and broken teeth behind it. And underneath it all … catchy melodies and riffs for days! There wasn't any other record I listened to more this year, or anything that struck me as more necessary in the current trends of music.
---
Top Reissue:
Terry Manning - Home Sweet Home (Sunbeam)
Recorded in 1968-69 as the payoff to a joke studio engineer Terry Manning played on his friends in the Box Tops, here's one of the most listenable and raucous records I've ever heard. Aside from bringing Chris Bell into the pantheon of recorded music, Home Sweet Home channels choogle and glam, well before such concepts were voiced, into a sprawling mess of fandom, respect, and love for rock and roll.
---
Other notable reissues:
The Dead C. - Vain, Erudite and Stupid (Ba Da Bing)
The Fix - …At the Speed of Twisted Thought (Touch & Go)
Harvey Milk - Courtesy and Good Will Towards Men (Relapse)
Dead Moon - Echoes of the Past (Sub Pop)
Chavez - Better Days Will Haunt You (Matador)
16-17 - s/t / Hardkore & Buffbunker / When All Else Fails … (Savage Land)
Selda - s/t (B-Music)
John Cale - Paris 1919 (Rhino, UK)
John Phillips - John, the Wolfking of L.A. (Varese Sarabande)

---
Top Singles/Individual Tracks
10. Amerika Ruby - "Alt" (Cosmic/Alt 12", Meteosound, GER)
9. Busy Signals - "Can't Feel a Thing" b/w "All the Time" (7" single, Shit Sandwich)
8. The Walkmen - "Lost in Boston" (A Hundred Miles Off, Record Collection)
7. Fiery Furnaces - "Benton Harbor Blues" (Bitter Tea, Fat Possum)
6. Why? - "Dumb Hummer" (7" single/Rubber Traits EP, anticon.)
5. Danava - "Maudie Shook" (s/t, Kemado)
4. Ghostface feat. Ne-Yo - "Back Like That" (Fishscale, Def Jam)
3. Tyvek - "Mary Ellen Claims" b/w "Honda" (7" single, X! Records)
2. Oneida - "Up With People" (Happy New Year, Brah/Jagjaguwar)
1. Comet Gain - "Beautiful Despair" (12" single, What's Your Rupture?)
---
Too Late To Figure In, But Might Have Made It
Alela Diane - The Pirate's Gospel (Holocene Music)
The Veils - Nux Vomica (Rough Trade, UK)
Amy Winehouse - Back to Black (Island, UK)
---
Runners-Up (great records, all)
Psychic Ills - Dins (The Social Registry)
Dirty Faces - Get Right with God (Brah/Jagjaguwar)
The Saturday Nights - Queenslandicus (self-released)
The Hold Steady - Boys and Girls in America (Vagrant)
Ghostface - Fishscale / More Fish (Def Jam)
V/A - Wierd Records (Wierd)
Home - Sexteen (Brah/Jagjaguwar)
Brightblack Morning Light - s/t (Matador)
Criminal Damage - s/t (Feral Ward)
Comets on Fire - Avatar (Sub Pop)
Mahogany - Connectivity! (Darla)
Teeth of the Hydra - Greenland (Tee Pee)
Mika Miko - C.Y.S.L.A.B.F. (Kill Rock Stars)
Melvins - A Senile Animal (Ipecac)
Zombi - Surface to Air (Relapse)
Fiery Furnaces - Bitter Tea (Fat Possum)
Death Breath - Stinking Up the Night (Relapse)
Deftones - Saturday Night Wrist (Maverick)
Oxford Collapse - Remember the Night Parties (Sub Pop)
Fucked Up - Hidden World (Jade Tree)
Unearthly Trance - The Trident (Relapse)
Yo La Tengo - I Am Not Afraid of You and I Will Beat Your Ass (Matador)
---
Top Live Bands
Guapo/Zombi/James Plotkin and Tim Wyskida - Knitting Factory, NYC
Ghostface/Boredoms/Roky Erickson - Intonation Festival, Chicago
Arcwelder/Killdozer/Scratch Acid/Negative Approach/Big Black - Touch & Go 25th Anniversary, Chicago
Clockcleaner, Northsix, Brooklyn
Chavez - Warsaw, Brooklyn
Oneida/Dirty Faces/Company/Knyfe Hyts - Knitting Factory, NYC
Th' Faith Healers - Northsix, Brooklyn
Witch/Teeth of the Hydra/Titan - Northsix, Brooklyn
Celtic Frost - BB King's Bar & Grill, NYC


By Doug Mosurock