All Tomorrow's Parties - Har Mar Superstar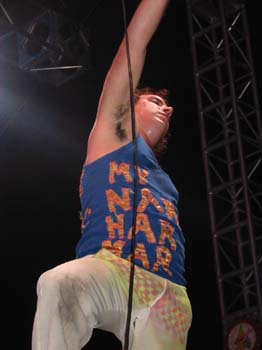 Sam Hunt: Playing before what should've been the audience of a lifetime and in a slot to die for (placed in between James Chance and the Contortions and Mission of Burma), the outdoor crowd seemed to have checked their dancing shoes (as well as their novelty hats) at the gate, or left them back on the Queen Mary as they left the terrific Jackie-O Motherfucker show minutes earlier. The porky and goofy-looking Har Mar Superstar (a.k.a. Minneapolis' hardest working scenester, Sean Tillman) led himself through a set very similar to those he has played for his entire career. Tillman's songs are all of the elementarily catchy/booty-shake inducing variety; now that he's bona fide, he seems to have less patience for the uninterested. After an awkwardly forced walking trip through the crowd of 4,000 or so, Tillman re-emerged to declare his audience as one of the worst before which he had ever performed. This scolding was received with about as much deference as would be given to a former boss, or a Bush.
Tillman eventually relented, giving the audience what they clearly had come for: the sight of a slightly disgruntled, hairy, overweight man performing a striptease. This, surprisingly, was even more awkward than it was the last time I had seen it, three years ago before a confused crowd of not more than 15. While many may consider this to be the funniest thing they've since Will Ferrell's bare ass, in this situation it was a glaringly depressing act from someone who is shamefully more interested in eking out cheap thrills than in advancing his soulful vocals and songwriting skills (both of which are considerable). Nothing made this more apparent (at least in regard to Tillman's voice) than his traditional cover of Stevie Wonder's "Sir Duke" which, if you closed your eyes, was stunningly sharp, charmingly respectful, and even somewhat inspiring; three qualities that were glaringly absent from the rest of the set.
Sam Frank: He's no Andrew WK.
< Jackie-O Motherfucker | David Cross >
By Dusted Magazine