All Tomorrow's Parties - David Cross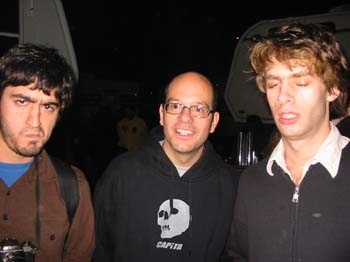 We talked to David Cross for a minute. He wasn't actually performing, but was found milling about backstage. Then Ben started talking about a time he dragged Cross into delis for a photo project. "I think we've met before." "Oh?" "It was…in a bar.""Oh?"
Sam Frank: So you've talked to Spin already—how was John Mayer? [Cross and Mayer discuss the year's records in Spin's year-end issue—SF]
David Cross: Did that get in there? John's good, John's doing really good. I've got to call him, he's sitting my kids, but I told him I'd be back by 11:30. And the kids go to sleep by 10, so…
SF: What's the song about the body? Called "The Body Body Something Something."
DC: Well, it's something I didn't know until I heard the song, but it's "Your Body is a Wonderland," which is—I didn't know that until I heard the song—he's talking about my body specifically. I know he got a girl to play me, to represent me, in the video, but he's basically talking about my body, it's a wonderland. And wonderland is a like a—
SF: Is that like the psychedelic sense?
DC: No, no, no. It's literally, or figuratively, like the fading amusement park from the late '60s, it's out in New Jersey, Wonderland Amusement Park—so you can go to Wonderland. It's kind of dirty and shitty, but that's what he's comparing my body to. This is before I started working out. I have a personal trainer now, I got colon-cleansed, so everything's looking up.
SF: Who're you here for tonight?
DC: Catering! I'm here to support catering.
Ben Tausig: They're great.
DC: Yeah, they're good. Salmon, that was my idea, salmon. And, you know, whatever they need.
SF: You're just trying to rape the vegetarians, aren't you?
DC: I don't care about the vegetarians, any more than you do. That's my catfish burger.
< Har Mar Superstar | Mission of Burma >

By Dusted Magazine