All Tomorrow's Parties - Mission Of Burma
Sam Frank: If Wire brought art students' conceptual power to bear on arrangement and structure and songwriting, Mission of Burma brought a music student's (not to mention two smart rockers'). Thanks in part to guitarist Roger Miller's writing, Burma stands directly in anticipation of academically complicated post-post-punk, thickly and oddly chorded, processed through Martin Swope's (now Bob Weston's) tapes. But, God, not to neglect bassist Clint Conloy (the "anthemic" one) or drummer Peter Prescott (The sloppy one? No slander intended. He shouted "Fuck the Strokes!" halfway through the set, and it was great. Whatever happened to the Volcano Suns' records anyway? Are they still in print? He also yelled, "Do me a favor: In 2004, vote to remove the president. Not for yourself—as a personal favor to me."). Their new songs stood up to the old—really, really—and, as Ben said, they were the one ATP nostalgia band not trading on nostalgia at all. (They played the hits, but even so.)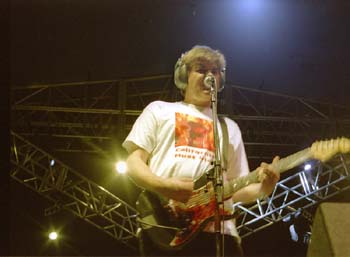 We talked to Roger Miller after the set. Clint Conloy was lost to a tape snafu.
Sam Frank: So the story, if you believe Our Band Could Be Your Life, is that when you ended it you had no fans, and now you come back and have a million fans. And I'm sure that's not good history.
Roger Miller: When we folded in '83 everybody committed suicide, those fans of ours.
SF: But they say that you were playing small houses. I'm curious what the truth of that is.
Clint Conloy: When we played in L.A. there were never more than six or seven people.
RM: The last show in L.A. was ten people; none of them knew who we were. The bartender said, "I really like that song you guys play, 'That's When I Reach for Marijuana.'" And it was like, "OK!" And it was like that in a lot of places.
SF: Do you have any idea why? Were your songs too complicated?
RM: How would we know? I mean, literally, how would we know, I have no idea. We thought we were behind our time. It's conceivable we were ahead of our time; it seems like it now that there are so many people like us. The original punk rockers like Television, Ramones, Wire—if we had been there, we would have had impact, but instead we were after that, so we didn't have impact. We thought we were behind, and now it appears that we're not.
SF: Ben was saying earlier that with the Magic Band, they played yesterday—
RM: I wish I'd seen them.
SF: —when you hear their songs, you know what's difficult about them: you're trying to put all these things together and make a song. And you, you have a million chords, but what you're hearing on record—especially until I saw you live—it's almost hard to tell why you're having trouble with some of the songs. And then you see you playing and you say, "Oh wow, there are a zillion chords in here"—your songs' surfaces are smoother.
RM: Right, when you see it live, it anchors it. And there was a thing people in Boston said, that it takes three times to understand Mission of Burma. Like you go the first time and you go [makes face]—it wasn't my experience because I was a player—but you know, they'd say, "I don't understand," and they'd have to see us again because we were playing all the shows, and they'd go, "I don't get it," and then at the third one, it was as if all the three lenses came in focus, they'd go, "I get it!" and then from then on they would get it. It's like learning how to ride a bike. And I don't understand, I don't know why that is, it's a mixture of the complexity and the gut—for every bit of complexity we have, we have every bit as much gut. It's real visceral. And then the lyrics aren't straightforward. There's nothing straightforward about the band.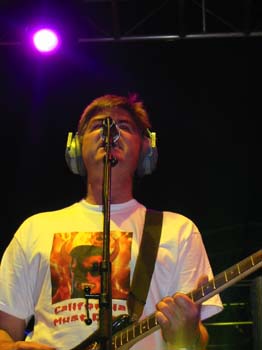 SF: You're recording.
RM: Yeah yeah, we're currently recording a new album, it's like 12 songs, brand new. You saw the show today, and there are four or five new tunes, and they fit in with the rest of it.
SF: Yes, they definitely did.
RM: I mean, they're a little bit different, if you isolate them, but…
SF: Birdsongs of the Mesozoic?
RM: I have ceased that band, in 1986. They carry on without me.
SF: Alloy Orchestra?
RM: Just last night we were playing in Northampton, Massachusetts; night before that we were in New Hampshire. Drove home from the show in Northampton and got on a plane this morning with my son, Chance. And we flew here. It's a three-piece. We do entirely silent film accompaniment.
SF: What are some recent films?
RM: This fall, we did The General, by Buster Keaton. Roger Ebert calls us the best in the world at accompanying silent film. We get flown to film festivals. Next weekend we're playing Peakskill, New York, outside of New York City. The following weekend we're being flown to the Tucson Film Festival; we'll be there for three days. This is how the band functions.
SF: Do you take any material for that from the original organ scores? [Note: I'm an idiot: silent film scores were most often improvised. I knew that!—SF]
RM: No, no, we do it entirely from scratch. I play keyboard—piano, orchestral stuff, sometimes prepared piano and junk metal—and there are two percussionists, they play a rack of junk metal that's ten feet tall and fifteen feet wide, on a pole, and then there're also regular drums. One of the guys plays clarinet and glockenspiel. The other one plays banjo and accordion. Between the three of us, we score these silent films from scratch.
Ben Tausig: How do you choose them?
RM: Other people choose them for us. Because we're actually known all over the world for this, people who have new films contact us. Every year we prepare a new film for Telluride. It's a really good gig; it's very laidback. Unlike Burma, which has this mania to it. Like right now I'm talking to you guys, but there's no chance to relax and I want to see the Stooges. But with Alloy Orchestra, we play a show at 7 o'clock, by 9:30 it's over, at 10 o'clock I'm done selling merchandise and we go to our hotel rooms and I do my drawing or go to a pub. But here, with Burma, it's this perpetual mania.
BT: Do you have a lot of fans who are interested in you—in all of your different projects?
RM: No. There are a few, there are enough to make me laugh. But most Burma fans don't know anything about the Alloy Orchestra. I have another band, the Binary System, which has a couple albums on Atavistic, and we're about to record a new album in January. We're doing a lot of vocals on this trip, and most notably we're covering the Silver Apples' "Oscillations" and Missy Elliott's "Scream." But we're not a novelty band, these things fit into the group.
SF: What's the basic idea behind it?
RM: I play piano and prepared piano, and there's a drummer. It's just the two of us. To Burma fans, we sound like a classical jazz improv group, but everything we do is rock beats within the context of improvisation, with structures that are considerably more complex than Mission of Burma's. Anyway, I don't know what Burma fans think of it. It's not my problem: I just make the records.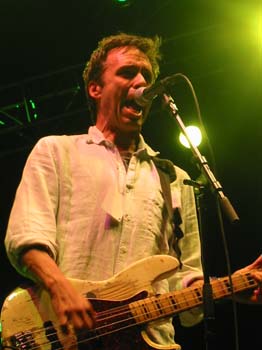 SF: You said on stage you have a Stooges cover.
RM: We used to do "1970," and we still occasionally do it; it's on The Horrible Truth About Burma, which came out in '85.
SF: Have you seen the Stooges reunited?
RM: No. I personally saw the Stooges twice in '69 and '70. I saw them right when their first album came out and they were hyper-tight, super-tight, Iggy's dancing was great, it was tight song after tight song. And the next time, one of my bands was supposed to open up for them for a benefit in Ann Arbor, Michigan, in 1970, that was where the White Panthers were and it was a benefit for an underground newspaper. One of my brothers was sick so we couldn't play, but I went anyway. It was a lot of feedback while Iggy attacked the audience, diametrically opposed. Before, it was this completely tight, amazing rock band, and the next time I saw them, like seven months later, it was nothing but assault. There was no similarity between the two bands whatsoever. It was really great; both shows were excellent.
BT [indicating RM's shirt, with Srnold in horns and flames]: Why must California die?
RM: Because Schwarzenegger's in charge. I had the idea of turning Schwarzenegger into the devil, and my son Chance photoshopped it, and then I thought, "California Must Die." It's Schwarzenegger saying that, not me.
SF: California is terminated?
RM: California über nothing.
< David Cross | Carla Bozulich (Red Headed Stranger Show) >

By Dusted Magazine