All Tomorrow's Parties - Carla Bozulich (Red Headed Stranger Show)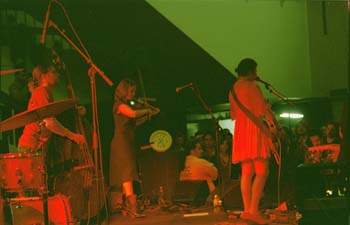 Sam Frank: The best set I wasn't expecting came from Carla Bozulich and Red Headed Stranger, a quasi-country band set up to cover Willie Nelson songs with, among others, Nels Cline on lap steel guitar and, I think, Ches Smith on drums (a different drummer played on the recent record). Bozulich, also of Geraldine Fibbers, Ethyl Meatplow, et al., has a gorgeous voice and clearly excellent skills as band assembler and leader, not to mention her guitar playing; Cline, a noted free improviser, showed how "right" he can play as well as "wrong"; and Smith (if it was him) made the band—he's an exemplary, rangy player, able to shift seamlessly from a powerful, uncliched rock rhythm to free playing. (He's also played with Mr. Bungle and Total Shutdown-offshoot Murder Murder, among many others.) It showed how wonderfully form can accent freedom—and, hot damn, he was a good fucking drummer.
We talked to Nels Cline.
Ben Tausig: So what do you have planned for the performance tonight?
Nels Cline: Well, we were just doing a little tour, so we'll probably play what we were doing on the tour, which is about a third or more of the Willie Nelson/Red Headed Stranger material, three or four Geraldine Fibbers songs, an old Ethyl Meatplow song, and maybe a cover song to be announced.
BT: Was it difficult to adapt the material to a live show?
NC: No, it was actually really easy. Carla's really passionate about the record and I'm completely laissez-faire about it. I think that, because I didn't have any precious ideas about it, when she said, "I'd like to try it this way, do this that way" or whatever, I didn't have any baggage, so I'd say, "OK, why don't we go to the minor, do it this way, whatever, try it." It was not hard. If I had thought about it a lot—if I was covering [Sonic Youth's] Bad Moon Rising, I'd probably have a difficult time because that record's super important to me. But in this case, it's more like raw material, and she has a pretty firm idea what she wants to do. It was easy.
Sam Frank: You did [John Coltrane and Rashied Ali's] Interstellar Space a few years ago.
NC: Yes. [Laughs] There was a—That was more difficult. Not because the material itself is note-for-note difficult, but because the idea of doing it was so daunting. The reason we were doing it was to make a political statement about free jazz. We, Greg Bendian and I, assumed we would get vilified by everybody, the press, musicians, everybody would hate it. What Coltrane is to me made it really hard.
SF: What was the political statement in particular?
NC: That free jazz is important, and it changed the way I think about music. It can't be written out of history the way some people were trying to do a few years ago, namely the Marsalis family, people like that. I wanted to say that that record and that music were really important to me. It shaped me as a musician; Greg Bendian had felt the same way. It was kind of his idea to do it.
SF: Did you think you'd be vilified for desecrating Coltrane?
NC: Yeah. I thought people would think it was really pretentious. Like, what am I, John Coltrane of the guitar? No. The answer is simply no. But I think that when you study the record very meticulously, there's a very literal quality to it that I think gives it a little extra credibility. If you listen to them back to back, it's kind of fun in a way. There're a lot of similarities. And as we started to play it more—the record is like our third performance of it—we did a little mini tour, we played up the West Coast a few years ago, and ever since we played that tour it's gotten easier. We sort of dropped the baggage, it became a little more our own, and it became even more insane. It got longer and longer, there's a version of "Venus" coming out on a CD recorded last year here in L.A. that's 14 minutes long. Everything is just getting longer and crazier.
SF: So you're still doing the material?
NC: Yeah, maybe we'll do it once a year or something. The baggage of it has become less daunting. But when we started it, I'd pick up those sleigh bells, and I would just have this feeling of, "Oh! No! Am I really going to do this?" And it'd get really, really tense for a minute. Now I kind of look forward to it
SF: So you were hoping to draw positive attention to a period of Coltrane that has been viewed negatively…
NC: Exactly.
SF: …by doing something that elicits a negative reaction from other people…
NC: Exactly. We just wanted to do it for our own personal amusement and say, "Fuck everybody else, whether you like it or not." But actually, people ended up liking it, it got really good reviews and stuff, I was kind of surprised.
SF: How do you conceptually go back and forth between doing an improv record, doing a song-based record? Is that difficult?
NC: I think my records are kind of always both. The Nels Cline Singers, or the old trio, they're pretty much song-based, but with lot of improvising, a lot of free parts or structured parts or chords. It's sort of everything. So I really just like all of the above. Sometimes I've been doing so many different groups that I've found it—For a long time it was really easy, but it became more difficult to remember what I was supposed to be doing. People would say, "How can you keep it all straight," and I would say, "Oh, it's really easy." But then like last year it got really hard all of a sudden. I had too many things going on that were different. Overall, I just hear the music and I play it. It's all the same to me if I like it. If I didn't like it, I think it'd be harder.
SF: Do you think you bring a different sound to every group? A sound specific to the music? Or is it just Nels Cline every time?
NC: I just try to do the job that the music is begging to have done. I'm definitely not trying to put my personal stamp on it or anything. Unless somebody says, "Look, that sounds too generic. Do your thing." And I go, "Oh," and I kind of fuck around.
SF: What's your "thing"?
NC: Fucking around, I guess. And maybe a few sounds: the palette is a little less normal or whatever. Carla gives me some leeway to do this and that, but a lot of times I'm just playing straight lap steel. Whatever it seems the song needs. In that sense maybe it's craftsman-like. I don't feel limited if I like the music…
BT: How does it feel—you've been involved with so many different projects, and this is what was chosen for ATP.
NC: Well, actually, they asked me to do something as well. But I thought Carla and I would originally were supposed to be on tour and be in Portland today. So I said, "There's no way. We're just going to barely make it in time to play the gig." So I was just happy to play. Last year, I played with Thurston and Mats Gustafsson and Willie Winant, and I had no decision on what that was either. Thurston kind of decided that that's what we were going to do, and I was just happy to play, because there were hardly any local musicians last year at all. I would like to play with my own group at one of these things, play my songs or whatever, but basically I feel that I'm a really lucky guy. I get to play so much stuff, it's really different, I like all of it. I don't play gigs I don't like.
SF: Who are some L.A. musicians you're excited about right now?
NC: Right now? Wow. Most of them are improvisers you probably don't know. For example there's a great trumpet player named Dan Clucas. I play with a group called the Blue Mitt Ensemble, and there are some young musicians in that band: Jessica Catron is a cellist of note; Noah Phillips on guitar; Jeremy Drake on guitar. An interesting woodwind player named Chris Eden; he does a lot of organizing as well as playing. Rod Poole is certainly one of the most important guitarists in L.A., playing just-intonation, acoustic, open-tuned guitar; he's a British gentleman but he's lived here for many years. Vinnie Golia, certainly, though I play with him so I'm not really objective; I've known him for twenty years, over twenty years, but he's still very important to me. Bonnie Barnett, a great extended vocal technique singer; Emily Hay, flutist, vocals. Devin Sarno does this minimalist, drone-based stuff. There're tons of people.
SF: Is there a sound—anything you can say overall about what players in LA are doing?
NC: Well, I don't think about sound in terms of geography. I think that everybody is to some extent affected by some aspect of what AACM did in the '70s, by what the New York scene and downtown has done, by what's been going in Europe with some of the ECM music, by what happened with free jazz in the 60's, which I guess was primarily in New York, but not necessarily. Everybody is affected by something that happened somewhere else. Certainly you have the so-called noise scene in Japan. What's happening in L.A.? It has certain unique qualities, but I think of it as more individuals, rather than the city. And I think the same thing is happening in Cisco, same thing in Seattle, Portland, Vancouver, Chicago. I think Chicago's been very politically active to try to make its name known as a city with a certain fame. But in L.A. we're all a little more passive than that. We're not fighting hard. I think everybody here feels very friendly and not competitive, and it's not sort of agit-prop or anything. I think there's something happening in L.A. that's unique to the players. I don't know if it's influenced by the New York scene or what, but anything that's so-called jazz or free jazz is influenced by New York, and anything that's sort of free improvised is relating to the European thing that's happened since the 70's or late 60's. John Stevens, Derek Bailey, Evan Parker, Han Bennink, Tristan Honsinger. It's influenced by them. Everybody puts his or her own stamp on it. My thing is really influenced by tonal music: rock, punk rock, '60s psychedelic rock, free jazz, impressionistic jazz, straight-ahead jazz; it's kind of everything. And it's also guitar-centric. I just happen to love the guitar. I'm always playing with as many guitars as possible. But in my trio, there's only one. Everything else is more than one. I like the guitar. There's a lot of great guitar players all over the world. I keep hearing more cool guitar. Certainly the Japanese scene is really interesting for guitar. Those weird minimalist guys. I've played with a lot of people from San Francisco and New York. To me, everybody's sort of the same in that we're all trying to do good music.
< Mission of Burma | A Tribute To Elliott Smith >

By Dusted Magazine